Arabic Chicken Shawarma
2018-09-23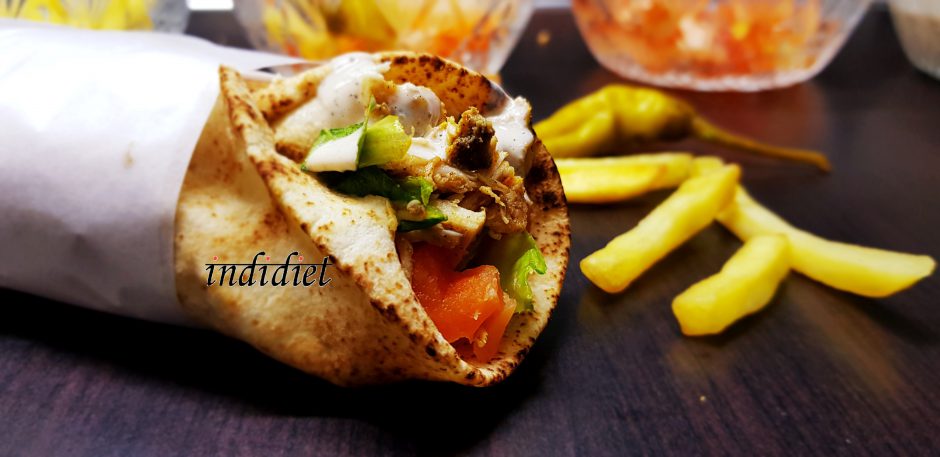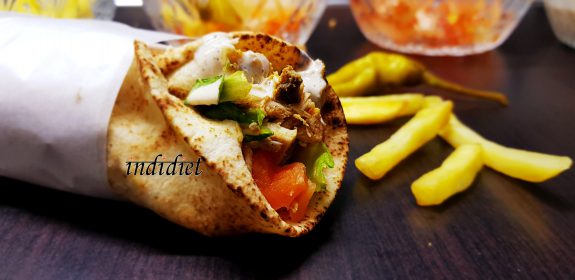 Arabic Chicken Shawarma
Shawarma or shaurma – a delightful sight of vertically mounted layered chicken or lamp meat, hours of grilling, drops of fat oozing out, skillful slicing, mixed with vegetables and special sauces, wrapped with artistic gestures and finally taken with some pickled vegetables. Shawarma with middle eastern origin is considered healthy due to the way of preparation and the special ingredients used. If you thought that the Shawarma's restaurant taste can't be achieved at home, this video will make you think twice. You will realise how easy it is to prepare and the flavour will get all ask for more… be prepared to cook more and more. The special way of grilling which is being demonstrated in this video, without an oven or open fire, makes it safe to do it in every home. This recipe shows how to prepare the tahini, shawarma white sauce and spice powder used in shawarma.
Step 1 – Preparing Tahini/Tahina
Ingredients
White sesame seeds – 1/2 cup
Olive oil – 2 to 3 tbsp
salt – as needed (optional)
Preparation
Heat a pan. Add the sesame seeds and dry roast over low flame. Roast for about 1 minute or till seeds change the colour to light golden. After cooling down, coarse grind the roasted sesame seeds. Then add olive oil and grind to a smooth paste. Add salt if needed. Tahini is ready.
Step 2 – Preparing Tahini-Garlic Sauce for shawarma
Ingredients
Lemon / lime juice – 1 tbsp
Pepper powder – 1 tsp
Garlic- 3 cloves (big)
Salt – as needed
Tahini prepared in step 1
Preparation
Mix all the ingredients and grind to a smooth paste. Shawarma sauce is ready. This healthy white sauce can be alternatively used as a dip or as a sauce for rolls and sandwiches.
Step 3 – Preparing Shawarma Spice Powder
Ingredients
Coriander powder – 1 tbsp
Cumin seeds – 1/2 tsp
Garlic powder – 1 tsp
Ginger powder – 1 tsp
Black pepper powder – 1 tsp
All spice powder – 1/2 tsp
Cinnamon stick -1 inch piece
Paprika/chilly powder – 1tbsp
Nutmeg – 1/2 piece
Green cardamom – 4 nos
Cloves – 1/2 tsp
Turmeric powder – 1/2 tsp
Preparation
Mix all the ingredients together. Grind to fine powder. Shawarma spice powder is ready. Store it in an air-tight container.
Step 4 – Marinating Chicken
Ingredients
Shawarma spice powder – 3 tsp (prepared in step 3)
Boneless chicken breast – 500 gms
Olive oil – 1 tsp
lemon / line juice – 1/2 to 1 tsp
Salt – as needed
Preparation
Slice the chicken into very thin slices. Slice it as thin as possible and around 2 inch long. Marinate chicken by adding all the above ingredients. Keep it in a refrigerator and marinate for 6 hours.
Step 5 – Cooking Chicken.
Prepare a potato by slicing both sides to get a perfect base. Insert a skewer into it (middle). You can use wooden or metal skewer. Take a tin lid and make a hole in the center. Insert this lid through the skewer. Your shawarma stand is ready. Now start placing chicken pieces on it. After that place a piece of tomato on the top.
Now take a pressure cooker and spread salt in it. The thickness of the salt layer should be around 1 inch, place a small plate on it. Now close the cooker, remove the vent whistle (important!!). Preheat the cooker over low flame for about 15 minutes. Now open the cooker and place the chicken stand in the plate. Cover the cooker (no vent weight) and cook for about 30 minutes or till chicken is cooked well. Cook over low flame. After chicken is done well, take out from the cooker and shred down the chicken. The cooker will be extremely hot and so be very careful. Tasty and healthy shawarma is ready
Step 6 – Preparing Chicken Shawarma Sandwich
Ingredients
Kuboos / pita bread / flat bread – 10 nos
Pickled vegetables – 1 cup
Potato fries – 1 cup
Lettuce – 2 cups (finely chopped)
Tomato 2 to 3 nos (chopped)
Preparation
Mix and chop the prepared shredded chicken along with lettuce and tomato. Open the kuboos through the sides till half. Open the bread and spread the prepared white sauce in it. Then stuff it with pickled veggies, potato fries and chicken mix. Pour some more sauce on it. Now, first fold top layer of the kuboos bread inside and then roll the bread. Cover it in a sandwich paper and seal the ends. You can also add hot sauce or peri-peri sauce. Healthy and tasty shawarma sandwich is ready…Exactly like restaurant shawarma.
Refer detailed step by step cooking video below: