Chicken Mandhi
2021-06-14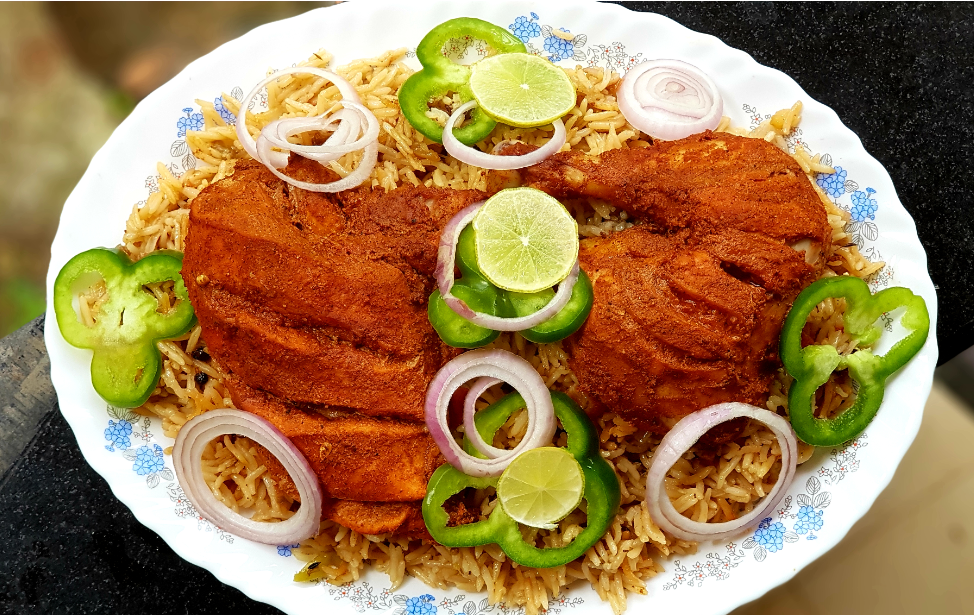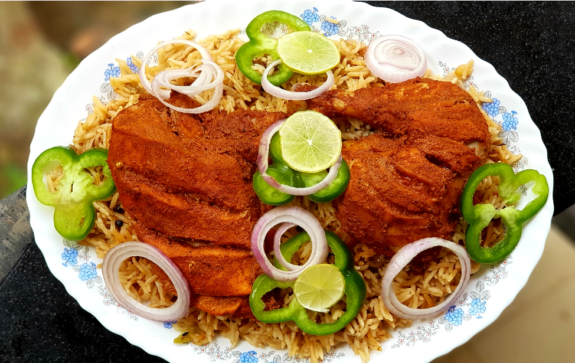 Chicken Mandi
A rice dish made with meat, mandi differs from biriyani in the way its cooked and serve – the meat is cooked seperately and then piled on top of the rice before its served. This is Special recipe of how to make Chicken Mandi easily at home. We can prepare the chicken mandi on gas top also but cant get the real taste and texture. This is a special method of preparing mandi using a flower pot.
Preparation of Chicken
Ingredients
Chicken
Mandi masala powder – 2 tbsp
Chilli powder – 1 or 2 tbsp
Ginger garlic paste – 1 tbsp
Lime juice – 1 tbsp
Food colour (Saffron/Red) – a pinch (optional)
Oil – 1 tbsp
Salt – as needed
Take the chicken in a bowl for marination. Add the ingredients given above. Mix well. Add more masala as per your taste. Mix well and marinate for atleast 1 hour or overnight.
Preparation of charcoal-pit
Requirements
Take a flower pot which is big enough to contain the vessel. Prepare a layer of sand. Fill about 1/4th of the pot with charcoal. When lighting the charcoal, try to avoid kerosene.  If required use BBQ fuel, available in cans. Add some oil, if needed.
 Preparation of Rice
Ingredients
Oil – 3 to 5 tbsp
Cumin seeds – 1 tsp
Fennel seeds – 1 tsp
Bay leaves – 3 to 4 nos
Cardamom – 8 to10 nos
Cinnamon stick – 1 inch piece
Onion – 2 nos (finely chopped)
Garlic and ginger (crushed) – 1 tsp each
Tomato – 1 to 2 nos
Green chilli – 4 to 5 nos
Capsicum – 1 no (chopped)
Dry lemon – 3 to 4 nos
Salt – as needed
Mandi masala – ½ tsp
Ghee – 2 tbsp
Pepper corn – 1 tbsp
Cloves – 1 tsp
Water 4 ½ cups
Cella Basmati rice – 3cups/glass
In a cooking vessel, add oil, cumin seeds, fennel seeds and bay leaves. Add cardamom, cinnamon stick and onions. Saute well. Add garlic and ginger. Saute till onion urns light golden in colour. Add finely chopped tomatoes, green chilli, capsicum, dry lemons, salt and mandi masala. Saute till tomato turns mushy.  Add ghee, pepper corns, cloves and mix well. Add water and let it boil. Use same glass to measure rice and water, so that the ratio will be correct.  Add rice when water starts to boil. Cook till rice starts to become fluffy. Turn off the flame when water has boiled off and rice can be seen.
To make mandi on gas top, boil fresh chicken in this water. Remove the chicken and marinate it. Chicken can be fried over tawa and smoked. Or bake in the oven. Rice should be cooked in the same water.
 Move the rice to the flower pot with the charcoal prepared earlier. Add saffron and food colour mixed in half cup of milk. Add few cloves and sprinkle mandi masala. Place a grill on top of the vessel to keep the chicken. Spread the marinated chicken evenly. Close it with a lid and then seal. Leave it about for 1.5 to 2 hours. Open carefully. Chicken and rice are cooked perfectly. Mix the rice.
Chicken Mandi is done!!
Average Member Rating
(0 / 5)
0 people rated this recipe
Related Recipes: