Dum Chatti Porotta
2021-06-11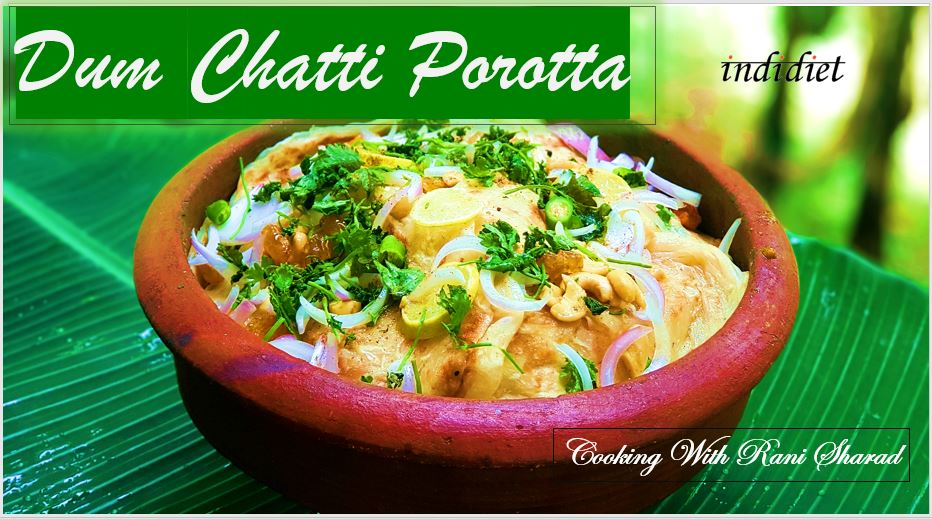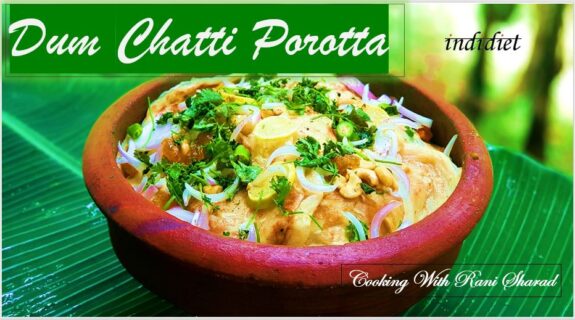 Dum Chatti Porotta
This is a special preparation of Porotta and chicken curry that too in Dum style. Kerala porotta and chicken curry is so special that almost every malayali will crave for. This is a variation of the famous kizhi porotta or the preparation in banana leaf.
Ingredients
Kerala Porotta
Chicken Chatti Curry
Boiled eggs
Raisins
Coriander leaves
Chatti
Preparation of Porotta
Step 1 – Preparation of dough for Kerala Porotta
Ingredients:
Wheat Flour/Maida – 500 gms (3 cups)
Egg – 1 no
Baking Soda – 1/4 tsp (2 to 3 pinches will be enough)
Sugar – 1 Tsp
Oil – 4 tbsp
Salt – as needed
Water – enough or making a dough (around 3/4 cup water or a mix of 1/2 cup water with 1/4 cup milk)
Preparation of the dough for Kerala Porotta
First, mix all the ingredients without adding any water. Mix well for a minute. Now, sprinkling water gradually, makes a soft dough from it. Knead the dough thoroughly for about 10 minutes. Grease the dough with some oil. Then cover it with a damp cloth and leave it for 2 hours. After two hours divide the dough into 12 to 16 equal-sized balls, grease it fully with oil. Then cover the dough balls again with a damp cloth for about half an hour.
Step 2 – Making of Kerala Porotta homely style
Ingredients
Oil – 1/2 cup
Onion – 1 no (finely chopped)
chili flakes – 3 to 4 tsp
Oil – 1/2 cup (for cooking parotta)
Preparation of Kerala Porotta
Heat ½ cup oil. Mix the hot oil with chopped onion and chilli flakes.
Grease the surface to be used to roll the dough. Take the prepared porotta dough balls and flatten it as thin as possible. Spread the chilli-onion mix on it. Fold it by taking small pleats and roll it a small disc shape. Repeat this with all the dough balls. Cover and leave this for 15 minutes.
Once we are ready to cook the Kerala porotta, roll them with hands or a rolling pin. Cook over low flame by adding little oil, till both sides are well cooked and turn crispy. Similarly, cook all the parottas.
To make the Kerala Porotta fluffier and flakier, stack them and crush them by hands.
Preparation of Chicken Chatti Curry
Step 1
Ingredients
Coconut oil – 2 to 3 tbsp
Fresh coconut – ½ cup (chopped)
Shallots – 1 cup
Ginger – 1 tbsp (finely chopped)
Garlic – 1 tbsp (finely chopped)
Coriander powder – 2tbsp
Red chilli powder – 2 to 3 tbsp
Turmeric powder – ½ tsp
Fennel powder – 1 tbsp
Garam masala – 1 tbsp
Curry leaves – few
Water – 1 cup
Tomato – 3 nos (sliced)
Chicken – 1 kg (small cuts)
Preparation
In an earthen pot, add oil and when the oil heats up, add the chopped coconut- saute for a while. Then add ginger, garlic, shallots, sprinkle some salt and saute till light brown. Then add coriander powder – saute for few second. After that add red chilli powder, fennel powder, garam masala powder, curry leaves and saute till fragrant. Add water and salt as needed to it. Add the tomatoes, mix and cook till they are mashed well. Now add chicken and curry leaves – mix well and cook with cover over low flame.
Step 2
Ingredients
Fresh coconut – ½ cup (grated)
Black pepper corns – 1 tsp
Water – ¼ cup
Coconut oil – 3 tbsp
Mustard seeds – ½ tsp
Fenugreek seeds – ½ tsp
Dried Red chilly – 4 Nos (chopped)
Curry leaves – few
Shallots – 10 nos (chopped)
Preparation
Grind coconut and black pepper corns to fine paste by adding water. Into a heated pan add 1 to 2 tbsp of oil. Once the oil is hot add mustard and fenugreek seeds. When the seeds start to pop, add dried red chilly, curry leaves and shallots. Saute till onions are brown. Turn off the flame, add the ground coconut paste and mix well. When the chicken (step 1) is cooked well and the gravy is thickened add the tempered coconut paste and mix well. Cover and cook for 2 to 3 minutes. Finally garnish with curry leaves and pour a tablespoon of coconut oil after turning off the flame. Serve hot with rice, roti, mashed tapioca etc.
Preparaion of Dum Chatti
This is done by adding the ingredients on top of each other as layers. Pour some chicken curry to the chatti as the first layer. Place 4 or 5 porotta on top of this. Pour chicken curry again on top of the porotta and add another layer of porotta. Place 3 or 4 eggs above this as the 5th layer of the dum. You can add chicken fry or other ingredients as per your creativity. Add another layer of porotta and add raisins, few coriander leaves, onion pieces, chilli etc, on top. The raisins are fried in ghee. You can pour the remaining ghee from frying the raisins on top. Cover the top of chatti using banana leaf. place the dum on the stove and cook for a few minutes till the chatti becomes hot.
Dum Chatti Porotta is Ready !!!
Average Member Rating
(0 / 5)
0 people rated this recipe
Related Recipes: