Hyderabadi Keema Biriyani | How to make mutton biriyani | How to make Hyderabadi dum biriyani
2018-02-13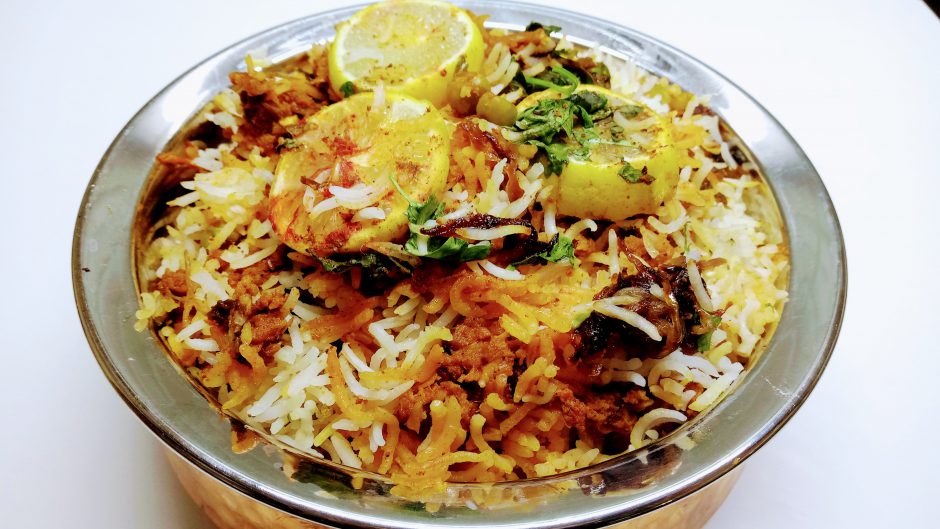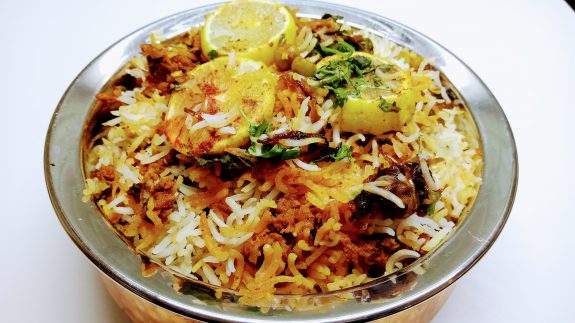 Hyderabadi Keema Biriyani | How to make mutton biriyani | How to make Hyderabadi dum biriyani
Step 1
Ingredients
Vegetable ghee/oil – 1 to 2 tbsp
Onion – 5 nos (thin sliced)
Garlic paste – 1 tsp
Ginger paste – 1 tsp
Green chilly – 4 nos (slitted)
Tomato – 3 nos (thin sliced)
Coriander powder – 1 tsp
Red chilly powder – 2 tbsp
Turmeric powder – ½ tsp
Black pepper powder – 1 tbsp
Biriyani masala – 2 tsp
Mint leaves – 1 cup
Coriander leaves – 1 cup(chopped)
Yogurt – 2 tbsp
Fresh mutton mince – 650 gms
Salt – as needed
Water – ½ cup
Green peas – 1 cup
 Preparation
Into a heated pan add ghee and oil. Once it is hot add sliced onion and fry till dark brown. Transfer it into a colander or strainer to keep it crispy else it will become soggy by absorbing oil. To the same pan add little more oil if needed. Now add ginger and garlic paste and saute till golden. Then add green chilli, tomatoes and saute till tomatoes are cooked and mashed well. Now add Coriander powder and saute for few seconds. Then add red chilly powder, turmeric powder, black pepper powder, biriyani masala powder and saute till fragrant. Add the minced mutton, coriander and mint leaves, yogurt and salt as per taste. Mix well and add water. Mix well, cover and cook over low flame. Add the fried onion when starts boiling. Keep some fried onion for garnishing later. When mutton is almost cooked add green peas. Cook till gravy thickens and a perfect masala is made.
Step 2
Ingredients
Ghee (clarified butter) – 2 tbsp
Oil – 1 tbsp
Cloves – 6 nos
Cinnamon stick – 1inch piece
Bay leaves – 2 nos
Star anise – 1 no
Cardamom – 2 nos
Black pepper corns – few
Shah jeera (black cumin) – ½ tsp
Basmati rice – 4 cups (soak for 20 minutes and drained)
Water – 8 cups (use same cup for measuring rice and water)
Salt – as needed
Mint leaves – few
Coriander leaves – few (chopped)
Onion – 2 tbsp (thin sliced)
Lime juice – juice of 1 lemon
Preparation
Into a heated pot add oil/ghee. Once ghee is hot add all the above whole spices and saute for a minute. Add water, lime juice, mint leaves, coriander leaves and salt as needed. When water is boiled well, add rice. Mix well, cover and cook over low flame. When the rice is 75% cooked drain immediately.
Step 3
Ingredients
Green chilli – 1 no (finely chopped)
Lemon – 1 no (sliced)
Mint leaves – few
Coriander leaves – few(chopped)
Milk – 2 tbsp (mix kewra water – 2 tsp and a pinch of saffron)
Biriyani masala powder – 1 tsp
Ghee – 1 tbsp
Fried cashew nuts and raisins (optional)
Preparation
Prepare a big pot enough to carry the rice and masala. Grease the pot with ghee. First add a layer of mutton masala (step 1) and then with a layer of cooked rice (step 2). Spread some fried onions, cashew nuts, raisins and some mint and coriander leaves. Place the lemon slices and chopped the green chillies. Pour the milk mix, sprinkle biriyani masala powder and pour ghee all over. Cover it with aluminium foil or seal the lid with maida (all-purpose flour) dough. Heat a tawa (iron tawa preferred) and place the biriyani pot on that. This is to avoid direct flame. Cook over low flame for 15 to 20 minutes. Turn off the flame and leave it for atleast 15 minutes before opening. Enjoy with pickle, pappad and raita.
Refer step by step cooking video below.
Average Member Rating
(0 / 5)
0 people rated this recipe
Related Recipes:
Recipe Comments