Irachi Chakka Pothi
2021-06-11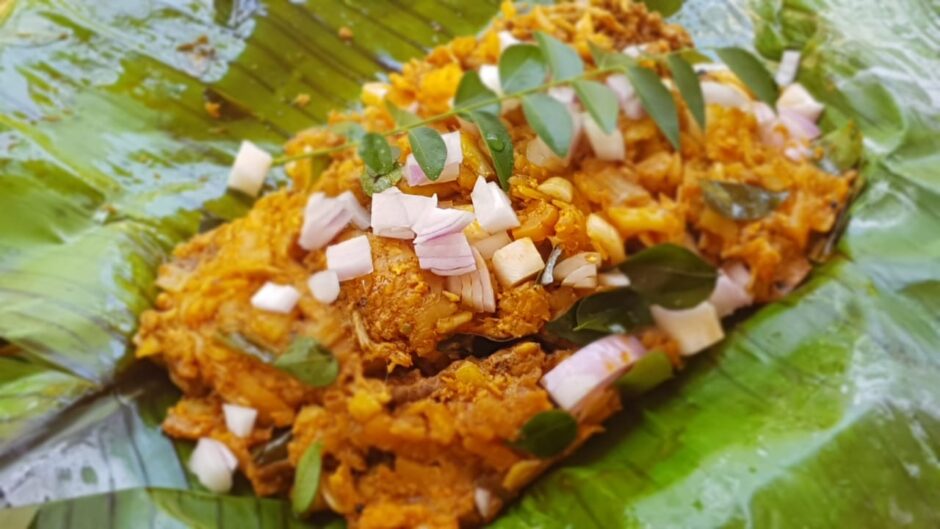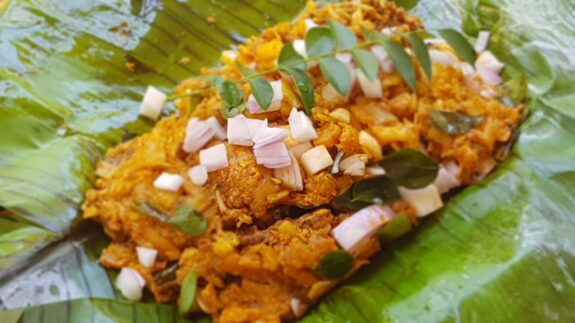 Irachi Chakka Pothi (Jackfruit Prepared In Chicken Gravy)
This is a Special recipe of a rare combination of Jackfruit and Chicken. This can be prepared using mutton or beef as well. It can be taken as a side dish with rice, chapathi etc.
Step 1

 Ingredients

Chicken Curry – 2 to 3 Cups
Raw Jackfruit – 5 Cups / Glass ( chopped )
Curry leaves – Few
Salt – As needed
Fresh Coconut – 1 Cup ( scrapped)
Green Chilli – Few
Step 2

Preparation Of Chicken Chatti curry ( Village style chicken curry )
           Step 1
         Ingredients
Coconut oil – 2 to 3 tbsp
Fresh coconut – ½ cup (chopped)
Shallots – 1 cup
Ginger – 1 tbsp (finely chopped)
Garlic – 1 tbsp (finely chopped)
Coriander powder – 2tbsp
Red chilli powder – 2 to 3 tbsp
Turmeric powder – ½ tsp
Fennel powder – 1 tbsp
Garam masala – 1 tbsp
Curry leaves – few
Water – 1 cup
Tomato – 3 nos (sliced)
Chicken – 1 kg (small cuts)
Preparation
In an earthen pot, add oil and when the oil heats up, add the chopped coconut- saute for a while. Then add ginger, garlic, shallots, sprinkle some salt and saute till light brown. Then add coriander powder – saute for few second. After that add red chilli powder, fennel powder, garam masala powder, curry leaves and saute till fragrant. Add water and salt as needed to it. Add the tomatoes, mix and cook till they are mashed well. Now add chicken and curry leaves – mix well and cook with cover over low flame.
Step 2
Ingredients
Fresh coconut – ½ cup (grated)
Black pepper corns – 1 tsp
Water – ¼ cup
Coconut oil – 3 tbsp
Mustard seeds – ½ tsp
Fenugreek seeds – ½ tsp
Dried Red chilly – 4 Nos (chopped)
Curry leaves – few
Shallots – 10 nos (chopped)
Preparation
Grind coconut and black pepper corns to fine paste by adding water. Into a heated pan add 1 to 2 tbsp of oil. Once the oil is hot add mustard and fenugreek seeds. When the seeds start to pop, add dried red chilly, curry leaves and shallots. Saute till onions are brown. Turn off the flame, add the ground coconut paste and mix well. When the chicken (step 1) is cooked well and the gravy is thickened add the tempered coconut paste and mix well. Cover and cook for 2 to 3 minutes. Finally garnish with curry leaves and pour a tablespoon of coconut oil after turning off the flame. Serve hot with rice, roti, mashed tapioca etc.
Step 3
Preparation of Chicken-Jackfruit Mixture
Add the freshly cut raw Jackfruit onto the already prepared chicken curry. Add a few curry leaves and some salt accordingly to the mixture. Cover the pan and cook till the Jackfruit is almost done over low flame. Check in between to add water to prevent it from getting burned. While the Jackfruit is getting cooked, Coarse grind 1 cup of scrapped coconut and a few green chilli. Now add this mixture to the cooked Jackfruit. Cover and cook for a while. Now mix and mash the Jackfruit well after pouring some coconut oil on it. Add salt if required. Try cooking this on cast iron kadai or earthen pots.
Step 4
Preparation of Pothi
Wilt a banana leaf. Place the leaf on a flat surface and put some curry leaves. Now add the cooked Jackfruit onto the leaf. Garnish the mixture with chopped onion and curry leaves. Wrap the banana leaf. Place the wrap into a hot pan and cook both the sides for a few minutes by covering it with a lid.
Tasty Irachi chakka Pothi is Ready !!!
Average Member Rating
(0 / 5)
0 people rated this recipe
Related Recipes: