Kappa-Mathi Puzhukku / Kappa-Meen Biriyani (Tapioca mashed in Fish gravy)
2018-11-30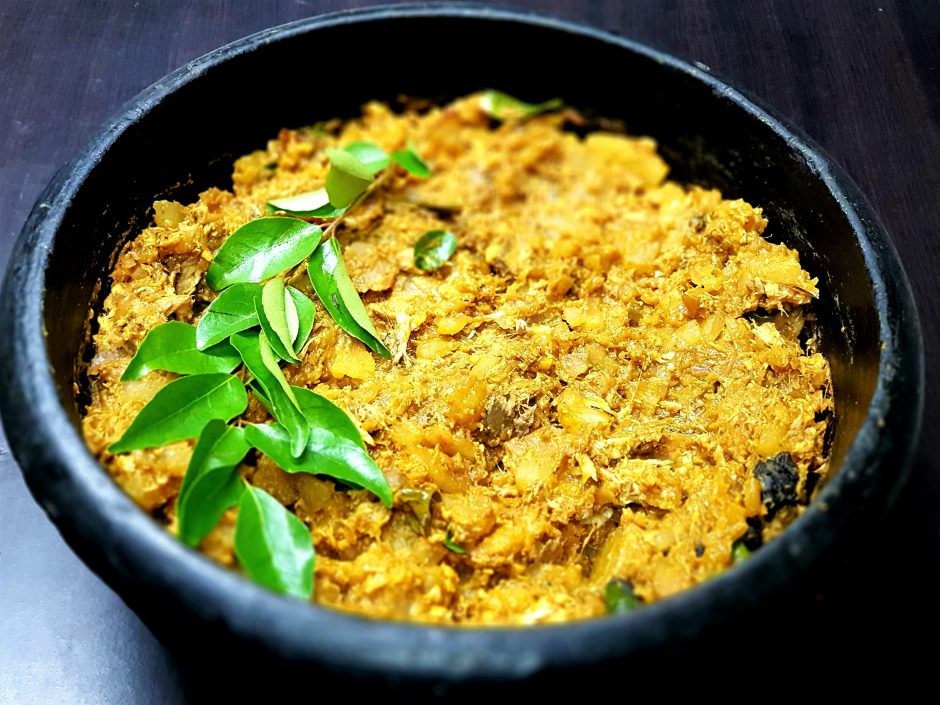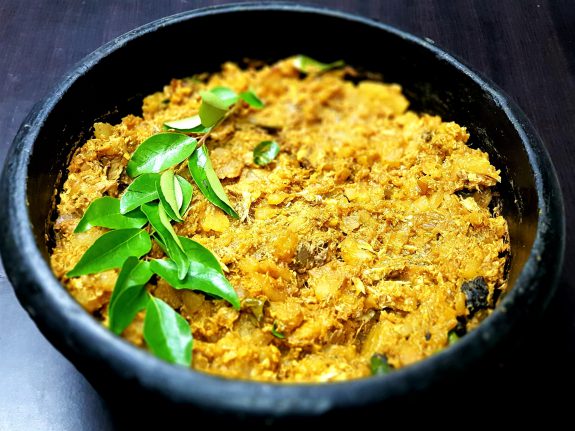 Kappa–Mathi Puzhukku / Kappa–Mathi Biriyani
Tapioca mashed in spicy fish gravy
Kerala traditional food is incomplete without a dish made of tapioca. The right combination of tapioca is with fish, especially Sardine or Mathi, as called in Kerala. This special tapioca and mathi mix is called in Kerala as Kappa meen puzhukku, Kappa mathi puzhukku, Kappa meen biriyani etc – different names in different parts. But the taste is unique – tapioca, fish, coconut, gravy, right spices, blended in the right way- makes it the favorite of Malayalis or Keralites around the world. This is a variation of Kappa meen curry or Kappa mathi curry – the inevitable dish for Keralites.
Step 1 (Cooking tapioca)
Ingredients
Tapioca – 1 kg (Chopped)
Water – enough to boil tapioca
Salt – as needed
Preparation
Boil tapioca by adding water enough water. Add salt when tapioca is half cooked. Cook till tapioca is well cooked. Drain and mash well. Keep aside.
Step 2 (Preaparing Kappa- Mathi Puzhukku)
Ingredients
Coconut oil – 2 to 3 tbsp
Shallots – 3 tbsp (Finely chopped)
Garlic – 1 tbsp (Finely chopped)
Ginger – 1 tbsp (Finely chopped)
Red chilli powder – 2 to 3 tbsp
Coriander powder – 2 tbsp
Turmeric powder – 1/4 tsp
Fenugreek powder – 1/4 tsp
Black pepper powder – 1/2 tsp
Kudampuli (Kokum) – 2 to 3 pieces (Soak in ½ cup of water for 15 minutes)
Fresh coconut (Scraped) – 1/2 cup
Sardines – 1/2 kg
Curry leaves – handful
Salt – as needed
Water – 1 cup
Preparation
Add oil to a heated pot. When the oil is hot, add shallots, ginger and garlic, saute till golden in colour. Now add chilli powder, coriander powder, turmeric powder, fenugreek powder, pepper powder and saute for 30 seconds or till fragrant. Do not over fry the spices. Add soaked Kokum along with water, curry leaves, salt as needed and bring it to boil. Add 1 cup of water, sardines. Cover and cook over low flame. Swirl the pot in between to avoid burning. When the fish is cooked remove the flesh from the bone (discard the bones). Then continue cooking till gravy thickens. Now add mashed tapioca (step 1), coconut and curry leaves. Mix slightly, cover and cook over low flame for few minutes. Finally add 1 tbsp of coconut oil and mix and mash well. Cover and cook for few minutes till everything are well combined. Tasty and spicy Kappa-mathi puzhukku is ready. Serve hot!!
Refer detailed step by step video below
Similar Recipes
Crab roast with mashed tapioca – https://indidiet.com/recipe/crab-roast/
Mashed Tapioca (Kappa Ilakkiyathu) – https://indidiet.com/recipe/mashed-tapioca/
Kappa Puttum Mathi Curryum – https://indidiet.com/recipe/kappa-puttum-mathi-curry/
Stay Connected with Indidiet through:
Facebook: www.facebook.com/theindidiet/
Twitter: www.twitter.com/indi_diet
Average Member Rating
(0 / 5)
0 people rated this recipe
Related Recipes: