Kerala Fish Curry Recipe | South Indian Seafood Recipes
2018-03-28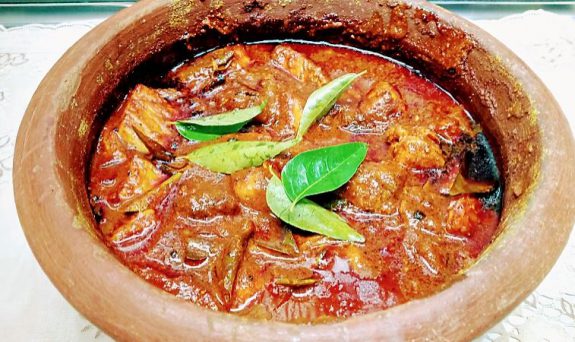 Servings :

4-5

Prep Time :

10m

Cook Time :

20m

Ready In :

30m
Christian wedding special Kerala fish curry, made without water. 
Kerala fish curry is very famous around the world. This recipe is more special as it says how to cook the fish curry usually made during christian wedding. This is made without adding water, and can be stored without refrigeration for few days. This method was used in earlier days to keep the fish curry without spoiling.
Step 1 Kerala fish curry masala paste
Ingredients
Coconut oil – 2 to 3 tbsp
Mustard seeds – 1 tsp
Fenugreek seeds – ½ tsp
Black pepper corns – ½ tsp
Ginger – 1 tbsp (crushed)
Garlic – 1 tbsp (crushed)
Curry leaves – handful
Turmeric powder – ½ tsp
Fenugreek powder – ¼ tsp
Black pepper powder – 1 tsp
Kashmiri red chilli powder – 3 to 4 tbsp
Salt – as needed
Kokum – 2 to 3 pieces (medium size, soaked in ½ cup of water for 15 minutes)
Preparation
Firstly, in a heated pan add oil. When the oil is hot, add Mustard and Fenugreek seeds, Black Pepper corns. Wait till seeds starts to pop. Then add ginger, garlic and few curry leaves, saute till light brown. Add turmeric powder, Fenugreek powder, black pepper powder, red chilli powder and saute till fragrant. Make sure that you are cooking on very low flame else the spice powders will burn. Immediately add the soaked kokum along with the water ( to be evaporated later ), salt as needed for the curry and cook to a thick paste as shown in video.
Step 2 Kerala fish curry making
Ingredients
Coconut oil – 2 to 3 tbsp
King fish – 500 gms (cubes)
Curry leaves – few
Tomato – 1 no (round sliced)
Banana leaf/aluminium foil to cover pot.
Preparation
At first, grease an earthen pot or non-stick pan with coconut oil. Place tomato slices as a layer at the bottom of pot. Then spread half of the masala paste (step 1) and place the fish pieces on it. Spread rest of the masala on top. Then add curry leaves in between. After that spread well and pour a tablespoon of coconut oil. Then cover the pot with banana leaf, tie with cotton thread, else secure the banana leaf with aluminum foil. Cover well and cook over very low flame upto 20 minutes and turn off the flame. Then leave it as such for few hours and  then open it. For better results, cook curry during evening and leave it overnight. Enjoy the special fish curry along with rice, mashed tapioca, appam, roti etc.
Refer step by step cooking video below.
Similar recipes:
Prawns with mixed vegetables ( Grandma special chemmeen aviyal )
How to make Calamari Prawns roast | Koonthal Chemmeen Perattu | Kanava konju ularthu
Stay Connected with Indidiet through:
Youtube: https://www.youtube.com/c/indidiet.com
Facebook: https://www.facebook.com/theindidiet/
Twitter: https://twitter.com/indi_diet
Average Member Rating
(5 / 5)
1 people rated this recipe
Related Recipes: