Kerala Porotta Recipe (Lachha Paratha)
2019-07-31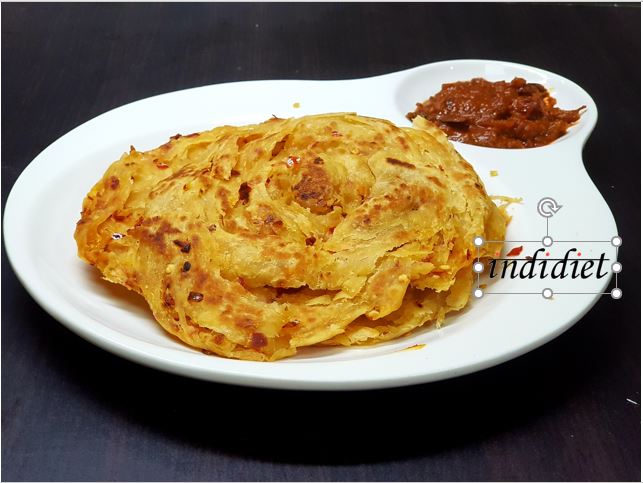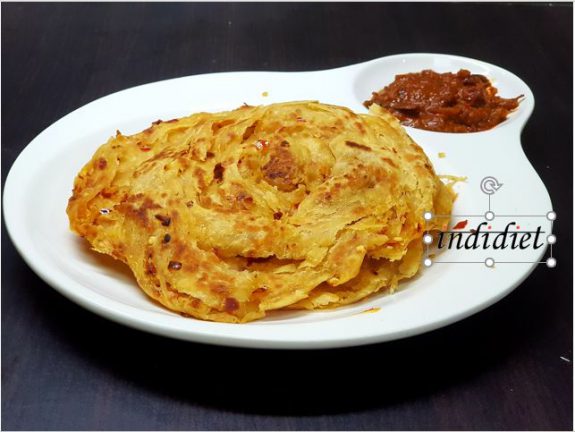 Kerala Paratha / Malabar Porotta with a twist of adding chilli flakes and onion
Kerala Porotta or Malabar Porotta is a unique dish from God Own's country, which is altogether different from North Indian parathas. Kerala Porotta, prominently known as Paratta or Parotta, is a delicacy from the southern part of India. Different terms are used like coin porotta or coin parota or just porota – a smaller version or size of a coin!!! Tasty Kerala Parotta is readily available in all restaurants in Kerala right from dawn to late-night street food vendors, making it one of the most popular dishes in the region. Presence of the Keralites in other countries in the Middle East etc made this dish popular and so they are available in different names in these countries like Malabar Porotta. Parotta can be taken with vegetable curries or non-vegetarian side dishes. Some restaurants are famous for combo dishes like Porotta with Mutton, Porotta with Egg, etc.
The art of tasty porotta making can be attained only with enough practice, especially the way to make it flaky. Throughout the highways or small streets In Kerala, you are seen these vendors or Thattukada where porotta is prepared.
Different versions of Kerala Porotta are available, by the manner it is garnished like egg porotta, masala porotta etc. The unique way of easily preparing the Kerala Porotta with chilli flakes and onion are mentioned here.
Step 1 – Preparation of dough for Kerala Porotta
Ingredients:
Wheat Flour/Maida – 500 gms (3 cups)
Egg – 1 no
Baking Soda – 1/4 tsp (2 to 3 pinches will be enough)
Sugar – 1 Tsp
Oil – 4 tbsp
Salt – as needed
Water – enough or making a dough (around 3/4 cup water or a mix of 1/2 cup water with 1/4 cup milk)
Preparation of the dough for Kerala Porotta
First, mix all the ingredients without adding any water. Mix well for a minute. Now, sprinkling water gradually, makes a soft dough from it. Knead the dough thoroughly for about 10 minutes. Grease the dough with some oil. Then cover it with a damp cloth and leave it for 2 hours. After two hours divide the dough into 12 to 16 equal-sized balls, grease it fully with oil. Then cover the dough balls again with a damp cloth for about half an hour.
Step 2 – Making of Kerala Porotta homely style
Ingredients
Oil – 1/2 cup
Onion – 1 no (finely chopped)
chili flakes – 3 to 4 tsp
Oil – 1/2 cup (for cooking parotta)
Preparation of Kerala Porotta
Heat ½ cup oil. Mix the hot oil with chopped onion and chilli flakes.
Grease the surface to be used to roll the dough. Take the prepared porotta dough balls and flatten it as thin as possible. Spread the chilli-onion mix on it. Fold it by taking small pleats and roll it a small disc shape. Repeat this with all the dough balls. Cover and leave this for 15 minutes.
Once we are ready to cook the Kerala porotta, roll them with hands or a rolling pin. Cook over low flame by adding little oil, till both sides are well cooked and turn crispy. Similarly, cook all the parottas.
To make the Kerala Porotta fluffier and flakier, stack them and crush them by hands.
Refer detailed step by step cooking video recipe of preparing the Kerala Porotta by Indidiet:
Porotta recipe in malayalam
Veesiyadikkathe adipoli porotta eluppathil undakkam
Average Member Rating
(5 / 5)
1 people rated this recipe
Related Recipes: