Kerala Style prawns – plantain stir fry (Nadan Chemmeen Kaya Fry)
2020-03-28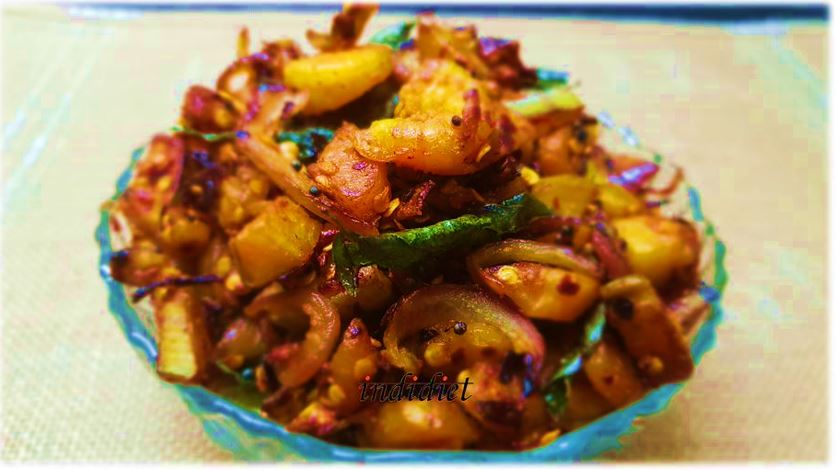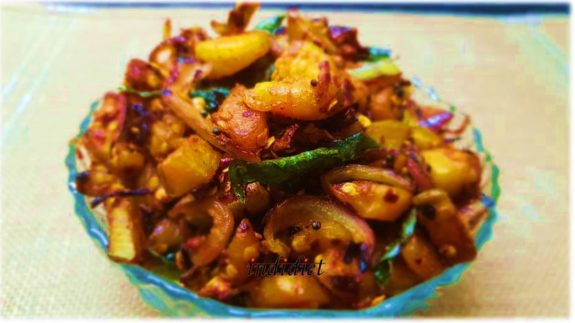 Kerala Style prawns – plantain stir fry (Nadan Chemmeen Kaya Fry)
Kerala is blessed with varieties of seafood, which result in various seafood recipes as well. from the backwaters of Kerala, freshwater prawns are part of the special preparations in restaurants and street food. Similarly, plantain is also part of the various recipes like curry and stir fry.
Prawns plantain stir fry is a special preparation bringing in both prawns and plantain, which is easy to prepare and will be a great side dish for rice. With minimum ingredients, this can be prepared at home in few minutes. Being a village style preparation, this is called as nadan chemmeen kaya fry.
Ingredients for prawns plantain stir fry
Prawns – 500 gms
Raw plantain – 2 nos
Turmeric powder – 1/4 tbsp
Crushed dried chillies – 1 tbsp
Black pepper powder – 1/2 tbsp
Onion – 1 no
Ginger – 1 small piece
Curry leaves – few
Lime juice – 1 tsp
Oil – 4 tbsp
Salt – as needed
Preparation
In a pan, add cleaned prawns, chopped plantain, salt as per taste, turmeric powder and mix well. Add 3 to 4 tbsp of water. Do not add more water while cooking prawns, as water will ooze out from them. Cover and cook well, over medium flame till prawns and plantain are cooked well and the water is fully evaporated. You can add potato or Chinese potato instead of plantain according to your choice and taste.
Prepare another pan and when the pan is hot, add oil. Once the oil is arm, add mustard seeds. When the mustard seeds start to pop, add sliced ginger, onion, curry leaves and crushed dried chilli (red chilli flakes). Saute for 2 to 3 minutes. Add the cooked prawns and plantain mix along with some black pepper powder. Stir gently without crushing the plantain, saute till dry and the colour turns dark. Finally add lime juice, mix well and cook for few more minutes. Prawns – plantain fry is ready to serve.
Detailed step by step cooking video on how to make prawns plantain stir fry given below:
More Prawns Recipe :
Prawns curry (Chemmeen thala pulinkari)
Kerala style Prawns Stir fry (Chemmeen thoran)
How to make Calamari Prawns roast | Koonthal Chemmeen Perattu | Kanava konju ularthu
Prawns Biriyani (Kerala Style Chemmeen Biriyani)
Prawns with mixed vegetables ( Grandma special chemmeen aviyal
Average Member Rating
(0 / 5)
0 people rated this recipe
Related Recipes: