Masala Kozhukattai/Kara Pidi Kozhukattai (Indian Spicy Rice Dumplings)
2019-03-19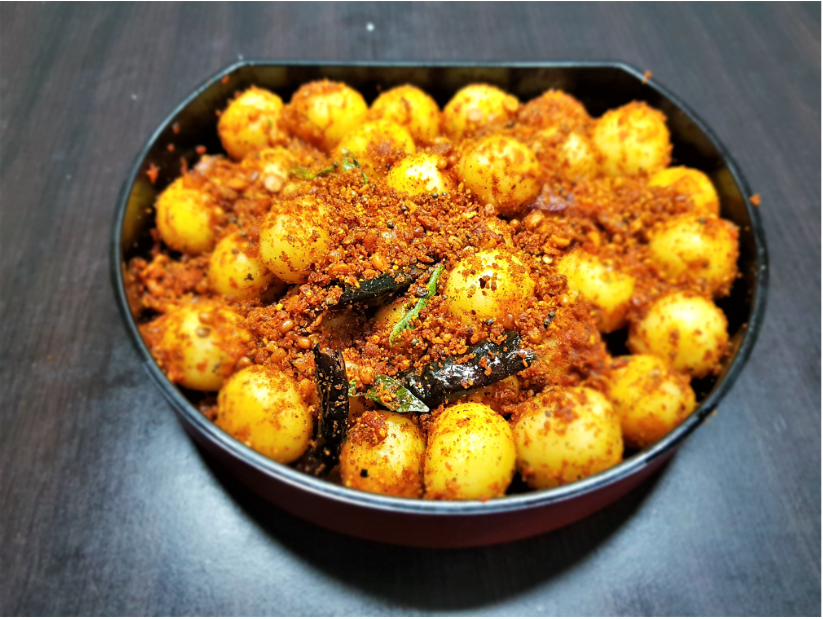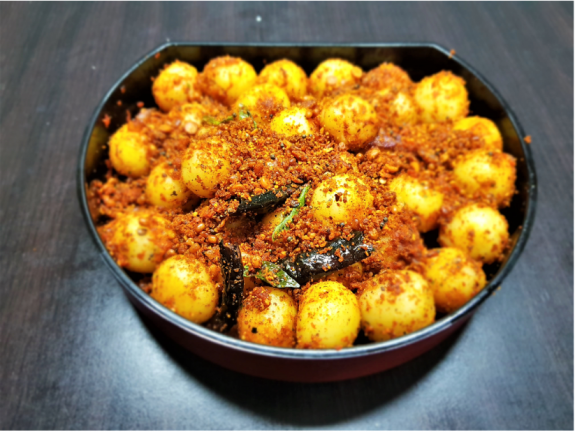 Masala Kozhukattai/Kara Pidi Kozhukattai (Indian Spicy Rice Dumplings)
Kozhukkata or rice dumplings are prepared in different shapes and flavors in India. The sweet version is supposed to be the favorite of Lord Ganesha and so is a must dish during the festivals. The Masala Kozhukkata is a spicy version of it for those with tangy taste buds !!! This is called as Kara( meaning spicy )or Pidi (meaning by hand) Kozhukkata, as per shape and flavor. Other versions of masala Kozhukatta will have various stuffings with non-veg or veg preparations. The special method to make the masala Kozhukata soft and well cooked is given here. Enjoy it for breakfast or as a snack anytime…
Step 1 – Preparing rice dumplings (Kozhukatta)
Ingredients
Rice Flour – 1 cup
Oil – 1 tsp
Water – 1 1/2 cups
Salt – As needed
Preparation
Boil water in a vessel by adding 1 tsp of oil and salt. Add the rice flour into the boiling water, stir continuously and vigorously. Over low flame, cook till it turns to a soft dough. When the temperature cools down to what you can handle, prepare small rice balls. Steam the rice balls in a steamer/idli steamer for 10 minutes or till they are cooked well.
Step 2 – Preparing masala Kozhukatta
Ingredients
Oil – 2 to 3 tbsp
Chilli Powder – 1/2 to 1 tbsp
Turmeric Powder – 1/4 tbsp
Mustard Seeds – 1/4 tbsp
Urud Dal – 1 tbsp
Chana Dal – 1 tbsp
Coconut (Fresh) – 4 tbsp (Grated)
Onion – 3 tbsp (Finely Chopped)
Asafoetida – 1/4 tbsp
Salt – As needed
Curry leaves – Handful
Dried red chilli – 4 nos
Preparation
In a heated pan, add the oil. Once the oil is hot, add mustard seeds. When the mustard seeds start to pop, add dried red chilli, urud dal, chana dal and fry till they turn light brown. Now add finely chopped onions, curry leaves and salt as needed. Saute till onion turns translucent. Then add chilli powder, turmeric powder, asafoetida and saute for 15 seconds or till fragrant.  Take 1 to 2 teaspoons of this fried masala, let it cool down and then grind it. Now add the prepared rice dumplings (step 1), grated coconut to the rest of the masala in the pan and mix well. Add the ground mix into it, mix well and cook for a minute so that everything is combined well. Masala Kozhukatta is ready to serve. Have this as a breakfast or a snack.
Refer detailed step by step cooking video below:
Average Member Rating
(0.3 / 5)
12 people rated this recipe
Related Recipes: