Pizza Ila Ada
2021-06-11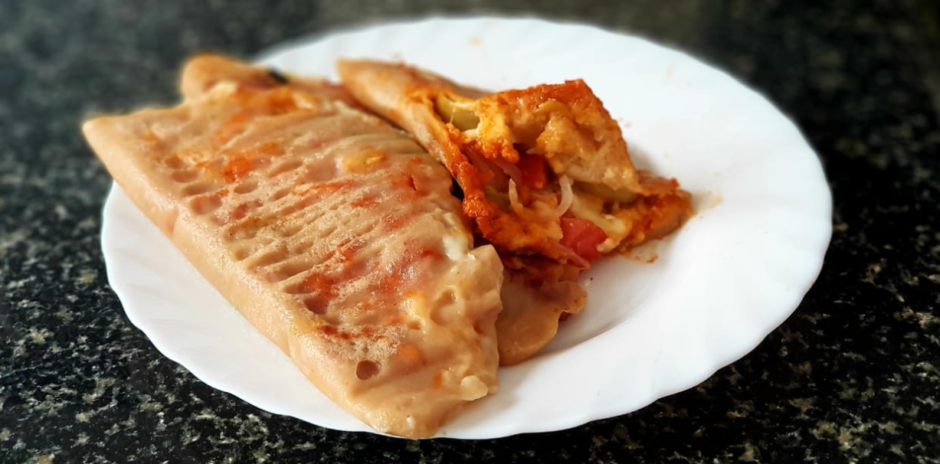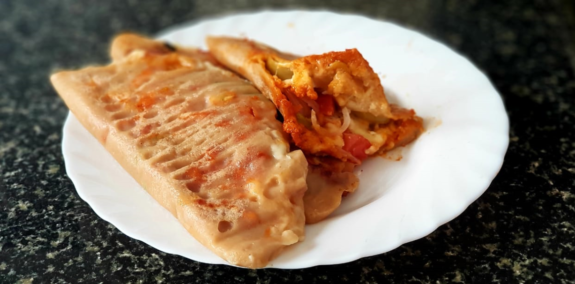 Pizza Ila Ada ( NO Bake Pizza Pockets on stove top)
An easy snack recipe for making Cheesy Pizza over stove top. This can be eaten as an evening snack or can be given to children as tiffin. This dish can be made easily using wheat flour and cheese and is a healthy dish.
Ingredients
Wheat flour – 2 cups
Salt – as needed
Mozarella cheese
Banana leaf
Pizza sauce
Capsicum – cut into small pieces
Onion – small pieces
Tomato – small pieces
Chilli – pickled
Take wheat flour in a bowl and add salt as needed. Make it to a think batter by adding enough water.  Grind or grate the mozzarella cheese into small pieces. Now pour small amount of batter onto the banana leaf and spread the batter evenly. Add pizza sauce and speard it in one half of the thin flattened batter. Add the grated cheese, capsicum, onion, tomatoes and pickled chilli.
Add a bit more cheese on top and fold the leaf in half. You can add more toppings if you want. Place the prepared mix on a frying pan and cook. Flip to cook both sides evenly. Cook till the leaf turns brown. You can cover and cook for better and easy cooking.
Tasty Pizza Ila Ada is ready!!
Average Member Rating
(0 / 5)
0 people rated this recipe
Related Recipes: