Pomelo Salad Vegetarian Recipe (Thai Pomelo Salad Recipe)
2019-03-01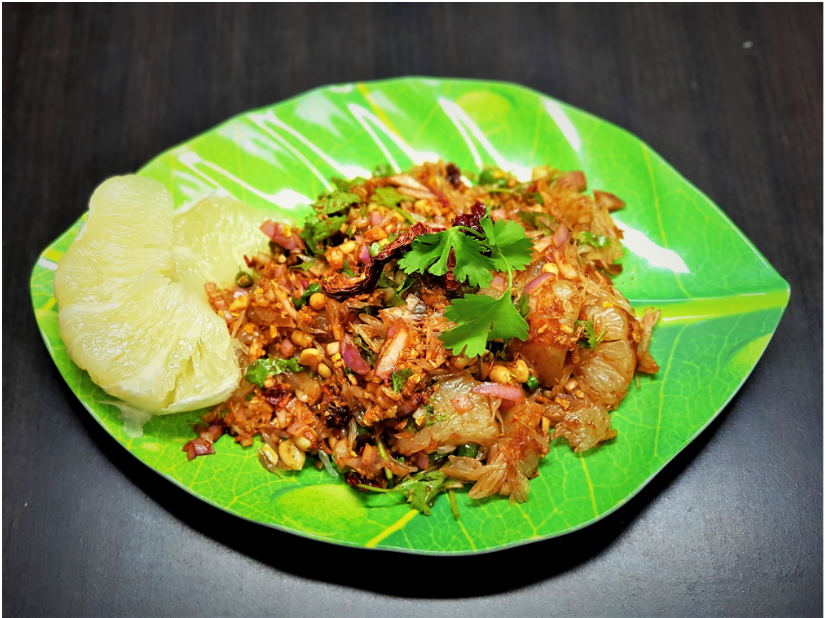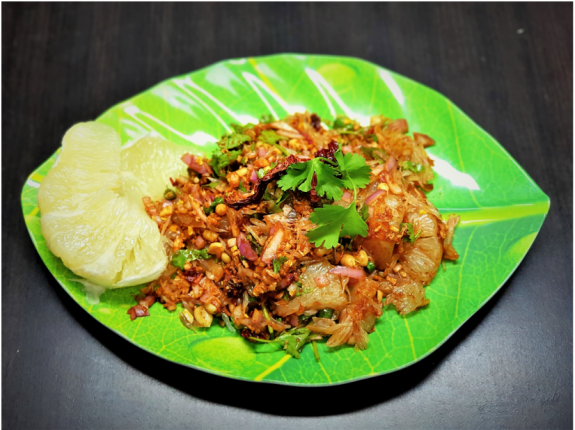 Pomelo Salad Vegetarian Recipe (Thai Pomelo Salad Recipe)
Pomelo… that too in salad!!! Most of us try to avoid pomelo, maybe the taste, difficulty in peeling or limited recipes available!!!
Pomelo salad is a special recipe which gives a special flavour to it. Ingredients like coconut, peanuts etc. are added to make the taste unique. It can be made even into a masala chat or can be taken just as a starter. Try it out… enjoy the Pomelo salad… make it easily within 5 minutes….
Ingredients
Onion – 1/2 (Finely chopped)
Shallots -4 nos (Finely chopped)
Green chilli – 2 to 3 nos (Finely chopped)
Garlic – 1 big clove (Finely chopped)
Dried red chilli – 2 nos (Finely chopped)
Salt – as needed
Jaggery/Sugar – 1 tbsp
Lime Juice – 1 to 2 tbsp
Red chilli powder – 1 tsp
Soya sauce – 1 tbsp
Pomelo – 1 cup
Fresh Coconut – 1 tbsp (Grated)
Virgin Olive Oil/Coconut oil – 1tbsp
Salted Peanuts – 2 to 3 tbsp
Coriander leaves – 2 tbsp (Finely chopped)
Preparation
Prepare all the ingredients and keep aside. Mix all the ingredients just before serving. Non-vegetarians can add a tbsp of fish sauce also.
Refer detailed cooking video below:
Average Member Rating
(0 / 5)
0 people rated this recipe
Related Recipes: