South Indian Filter Coffee using Sev Maker / Sevanazhi
2020-01-11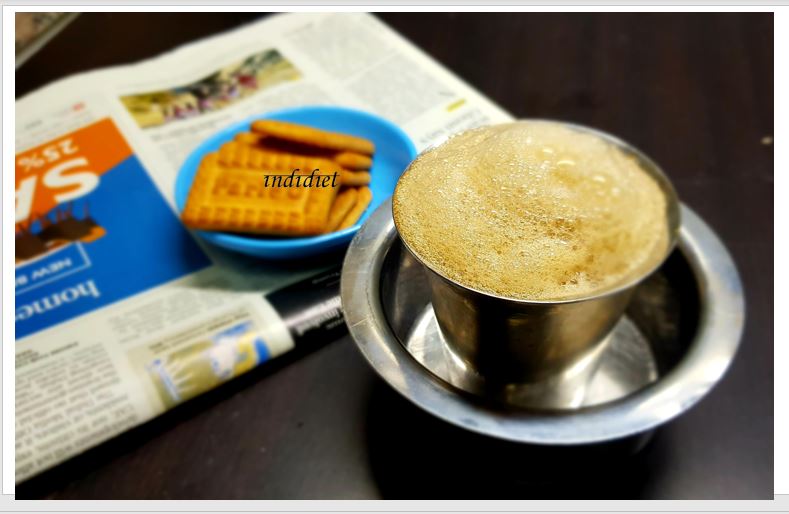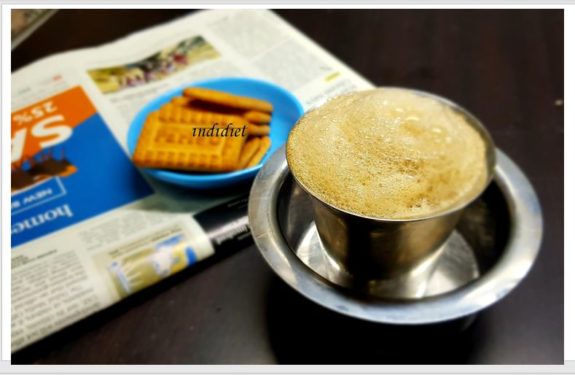 South Indian Filter Coffee using Sev Maker / Sevanazhi
The aromatic, tasty South Indian Filter coffee – make it at home with out the filter !!!
This innovative South Indian filter coffee making process using the sev maker / seva nazhi will astonish you. Same taste, same froth… easily prepare the decoction of the coffee, store it for a while and enjoy the filter coffee every day !!! This is the same method you follow, while preparing the South Indian Filter Coffee using the dedicated filter, readily available.
Ingredients for South Indian Filter Coffee
Coffee powder – 3 tbsp
Water – 1 cup
Milk – 1 cup
Sugar – 2 tsp
Preparation of the South Indian Filter Coffee
Prepare the sev maker as shown below using the attachment or disc with the smallest hole size.
Detailed preparation of the above set up is available in the South Indian Filter Coffee recipe video.given below.
Open the sev maker and add 3 tbsp of coffee powder.
Note on selection of the coffee powder::
The selection of coffee powder is important in making the South Indian Filter Coffee. Please do not use any instant coffee powder and go for the normal coffee powder available. Try to select the mix of chicory and coffee powder to give the special aroma. Chicory powder is made from the root of the plant and it gives the same coffee taste without the caffeine content. Different ratios of chicory and coffee blend are available and here we have used 80% coffee and 20% chicory.
Once the coffee powder is filled into the sev maker, cover the coffee powder internally with another perforated attachment or disc, as demonstrated in the video. Otherwise, the sev maker cover can also be used.
Add boiling water into the coffee powder inside the sev maker slowly and in parts. If you don't use the attachment, the water will just ooze out through the coffee powder and we will not get the decoction. Then cover the sev maker and leave it aside for some time undisturbed, so that full decoction will fully drip into the glass.
Once the decoction is ready, we can either store it in refrigerator for later use or start preparing the filter coffee.
Boil the milk, add sugar and the decoction as per your coffee taste. Pour the coffee back and forth, so as to mix well, to create a froth on the coffee, just like how you are being served in the restaurant.
Enjoy the South Indian Filter Coffee with evening snacks like Uzhunnu vada or medu vada, Banana Fritter or pazham pori, Parippu vada or dal vada, churros, Chocolate poppers, and other snacks !!!
Detailed video of the South Indian Filter Coffee making, using the sev maker is shown in the following video
Average Member Rating
(5 / 5)
1 people rated this recipe
Related Recipes: