Traditional Golden Turmeric Milk Recipe
2020-03-13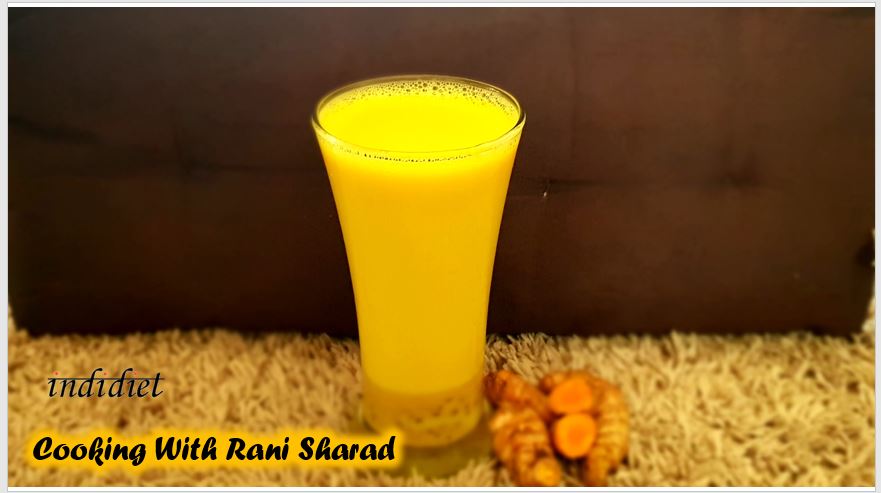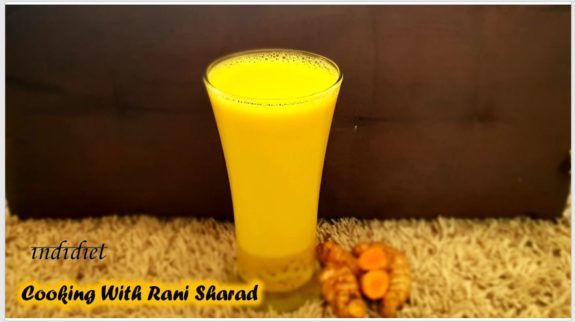 Traditional Golden Turmeric Milk Recipe (Haldi Milk / Haldi Doodh)
Traditional Indian drinks are getting popular nowadays due to the health benefits. Haldi Milk or Turmeric milk has been used for ages for boosting immunity of everyone. Seasonal infections can be avoided to some extend by being healthy and developing immunity.
Various health drinks and immunity boosters are available in the market, but we have been preparing these drinks at home for years. Instead of spending on those ready made drinks, we are easily prepare the immunity booster at home.
Golden milk is ideal for increasing your immunity.
This will taste like masala tea with an added flavour of turmeric. So can be called as Masala Milk !!!
Milk can be replaced with almond milk or coconut milk. Taking this milk before going to bed will be good for getting proper sleep. This can be tried by those suffering from hormone imbalance also. This can be given to kids for increased immunity, just by adding turmeric and ginger only.
Turmeric is considered anti-inflammatory, antiseptic, antioxidant etc, due to the curcumin content. But we should limit the quantity of turmeric intake.
Milk is rich is calcium and also an immunity booster.
Nutmeg is filled with nutrients like Magnesium, copper, manganese, vitamin B1, B6 etc and is considered good for reducing BP, Joint pains, proper digestion etc
Garden Cress seeds has numerous health benefits – read more: Garden cress seeds benefits
Cashew nuts can also be added for its health benefits, especially for those suffering from Thyroid issues. It has got good levels of iron, magnesium, zinc etc and also a source of good cholesterol.
Black pepper added later is also used against cold and flu. Traditional coffee with black pepper is considered as a first aid for flu. Black pepper is also high in anti-oxidants.
Ginger also got many health benefits and useful for digestion, reduce muscle pain due to the anti inflammatory properties and also reduce blood sugar..
Ingredients mentioned can be selected as per your taste. Try different combinations !!!
Ingredients For Golden Turmeric Milk
Water – 1/2 Cup to 1 Cup
Cinnamon – 1/2 inch stick
Nutmeg – 1/4 piece
Ginger – 1/4 inch piece
Garden cress seeds / Aliv / Ashaali – 1/4 tsp
Milk – 1 Cup
Sugar / Honey / Jaggery – 1 tsp (or as per taste)
Turmeric powder – 1/4 to 1/2 tsp
Pepper powder – 1 pinch
Preparation
In a sauce pan add water. Add Cinnamon. nutmeg, ginger and Garden cress seeds (It is better to add soaked garden cress seeds). Bring it to boil over low flame. These ingredients can be powdered in a larger quantity and stored in an air tight container as well. In that case you can use dry ginger instead of fresh ginger. Or Grind all the other ingredients except ginger and use fresh ginger while boiling.
Add more water into the pan, if needed. Once the garden seeds are cooked and you will get the aroma of the spices, add the milk. Here brown sugar is added for making it sweet. When the milk boils, add Turmeric powder and Pepper powder. Mix well and boil again. Healthy magical golden milk is ready.
Try this magic Golden Milk … enjoy healthy life !!!
Refer detailed step by step cooking video below :
Average Member Rating
(0 / 5)
0 people rated this recipe
Related Recipes: