Chettinad Kozhi Uppu Kari (curry)- Chicken Uppu Kari
2020-04-28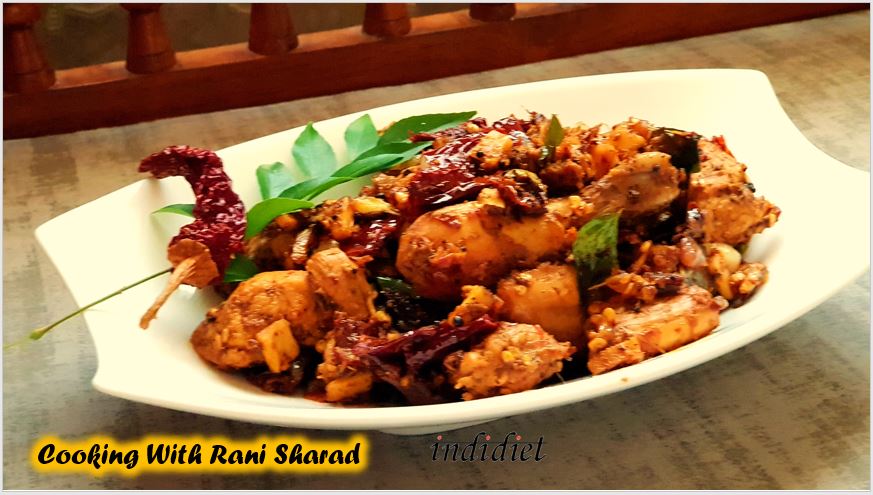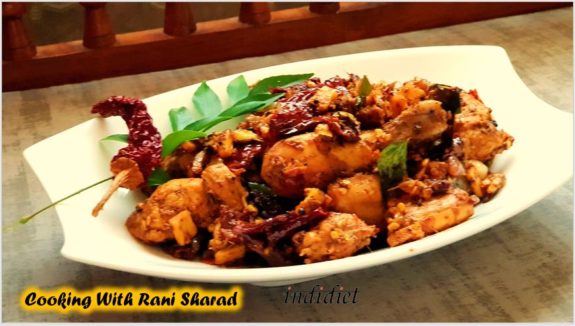 Chettinad Kozhi Uppu Kari (curry)- Chicken Uppu Kari
Chettinad kozhi uppu kari or chettinad chicken uppu curry, is a special South Indian chicken recipe with  whole spice mix. With minimum ingredients, chicken uppu kari can be prepared and this dry roast chicken is a tasty side dish for rice, roti etc.
Similar chicken recipes are:
Step – 1 (Marinating the chicken for uppu kari)
Ingredients
Chicken – 750 gms (Small cuts)
Turmeric powder – 1/4 tsp
Ginger-Garlic Paste – 1 tsp
Salt – as needed
Preparation
Mix all the ingredients together. Keep it for about 1 hour.
Step – 2 (Preparing Chicken Uppu Curry)
Ingredients
Oil – 3 to 4 tbsp
Mustard seeds – 1/2 tsp
Cardamom – 3 nos
Star anise – 1 no
Cloves – 5 nos,
Cinnamon stick – 1 inch
Bay leaf – 1 no
Fenugreek seeds – 1/4 tsp
Coriander seeds – 1/2 tbsp
Fennel seeds – 1/2 tbsp
Ginger – 1 inch piece (sliced)
Garlic – 5 to 8 cloves (sliced)
Shallots – 1 cup
Fresh coconut – 1/2 cup (chopped, optional)
Dried red chilli – 10 to 15 nos (chopped)
Pepper powder – 1 tbsp
Lime juice – 1 tbsp
Preparation
In a heated pan, add the oil. Once the oil is hot, add mustard, fenugreek, coriander and fennel seeds. Add cardamom, star anise, cloves, cinnamon and bay leaf. Then wait till the seeds start to pop. Now add the chopped ginger, garlic, shallots, coconut and dried red chilli. Add few curry leaves and a pinch of salt. Saute till onion starts to change the colour.
As chilli powder is not added in this dish, colour and taste come from the dried chilli added into it.
Add the marinated chicken. Add additional water only if needed. Mix well, add more oil if needed. Cover and cook over very low flame. Open and stir in between. Cook till the chicken is done well. Add lime juice and we can add more black pepper if needed at this stage. Mix well, cook it for some more time, to make the dish dry, or can leave it as such. Tasty Chicken Uppu Kari (Curry) is ready!!
Refer detailed step by step cooking video of Chicken Uppu Curry  below:
Average Member Rating
(0 / 5)
0 people rated this recipe
Related Recipes: