Chicken Majboos
2021-06-16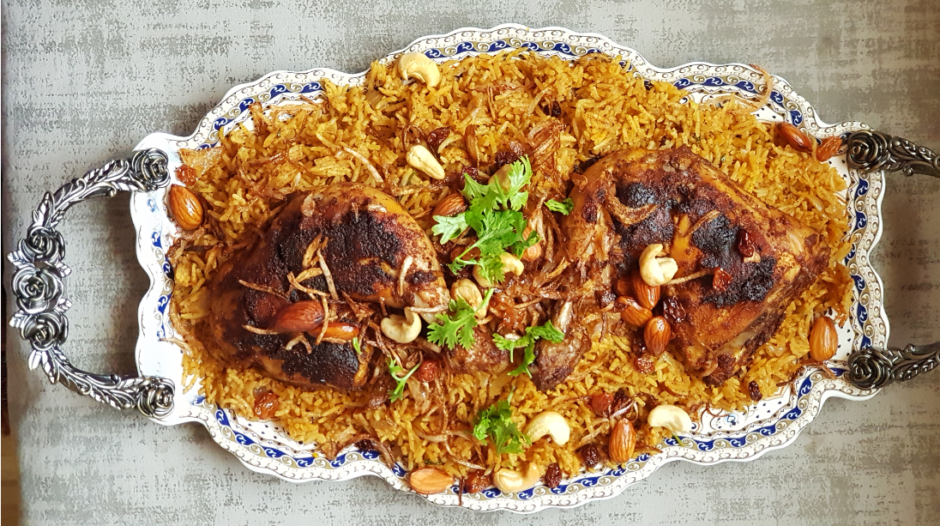 Chicken Majboos
This is a tasty Arabian Styled Chicken- Rice combo.
Preparation of Baharat
Ingredients
Chilli powder/ paprika – 1 ½ tbsp
Coriander seeds – 2 tbsp
Cloves – 1 tsp
Cardamom – 1 tsp
Cinnamon – 2" stick
Nutmeg – ½ piece
Pepper – 2 tbsp
Cumin seeds – 1 tbsp
In a frying pan, add coriander seeds, cumin seeds, cardamom, nutmeg, cloves, pepper and cinnamon. Crush cinnamon and nutmeg. Roast over low flame till aromatic. After cooling down, first coarse grind the mixture. Then add chilli powder and grind it to fine powder. Baharat is ready. Store in an air tight container.
Preparation of Majboos
Ingredients
Cooking oil – ½ cup
Onion – 1 no
Salt – as needed
Almonds – few
Raisins, Cashew nut – few
Onion – 2 nos (finely chopped)
Ginger – 1 tbsp (crushed)
Garlic – 1 tbsp (crushed)
Green chilli – 1- 2 nos (chopped)
Coriander powder – 1 tbsp
Turmeric powder – ¼ ts
Chilli powder – 1 tbsp
Pepper powder – ½ tsp
Baharat – 2 tbsp
Ground tomato – 2 nos
Chicken – 4 pieces
Water – 5 cups
Black lime (dried lime) – 3 nos
Coriander leaves – few
Parsley – few (optional)
Ghee – 1 tbsp
Saffron – a pinch (optional)
Basmati rice – 3 cups (1 cup rice : 1 ½ cupwater)
Chilli powder – 1 tbsp
Add oil to a frying pan. cut onion into thin slices and add to the pan. Add a pinch of salt. Saute till golden. Fry few almonds in oil. Then add raisins and cashew nuts.
Add onions to a frying pan and saute for a while. Add crushed ginger, garlic and green chilli. Saute till golden. Now add coriander powder, turmeric powder, chilli powder, pepper powder and Baharat. Saute for 30 seconds. Add ground tomato and salt as needed. Saute till oil separates.
Add 1 full chicken cut into 4 pieces to the masala mix. Mix well. Cover and cook for 5 minutes. Add 5 cups of water. Add salt if needed. Put holes in the black lime and add to the mixture. Otherwise you can use 1 whole fresh lime. Mix well. Cover and cook till chicken is 3/4th done. Move the chicken pieces to another plate and discard the limes. Add few chopped coriander leaves and parsley to the remaining curry. Add ghee, a pinch of saffron and mix well. Add basmati rice and add more water if needed. Cover and cook till rice is done.
Now take the cooked chicken, add chilli powder, 1 tsp Baharat powder and salt as needed. Mix well. Add cooking oil to frying pan. Shallow fry both sides of the chicken or bake in an oven. Ensure chicken is evenly fried. Serve the chicken on top of the rice. Garnish with fried onions, nuts and raisins.
Delicious Chicken Majboos is ready !!!
Average Member Rating
(0 / 5)
0 people rated this recipe
Related Recipes: