Grain-free Cauliflower Rice – Chicken Biriyani
2019-01-08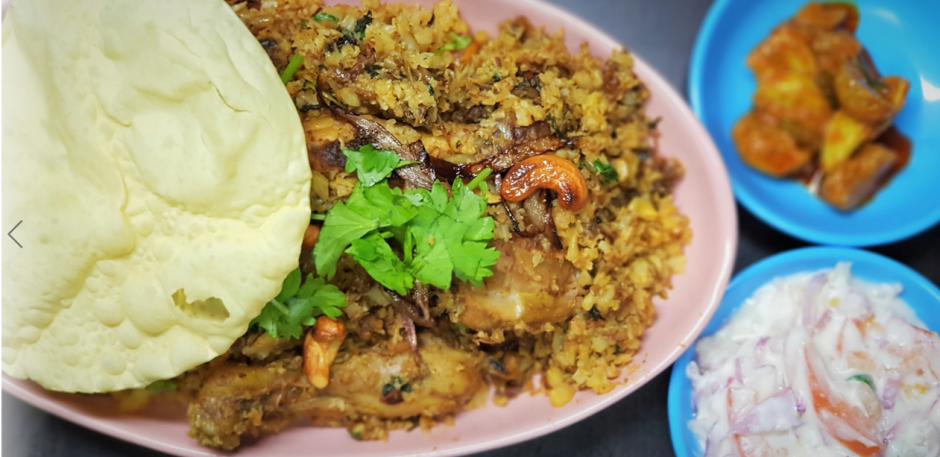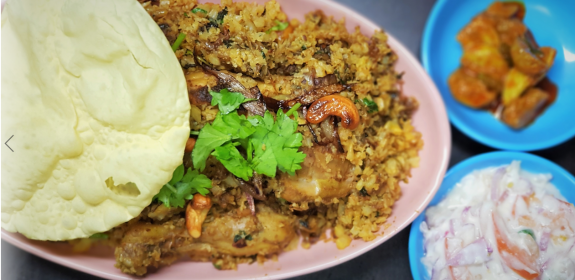 Grain-free Cauliflower Rice – Chicken Biriyani (Keto / Low Carb Diet
Biriyani Recipe)
Biriyani, one of the favorite dishes around the world, can be scary to some due to the carbohydrate content. But don't worry, have the same tasty biriyani, without the worry of carbohydrate content, with this special grain-free recipe. This is ideal for those who are on special foods like Keto diet or Diabetic diet. But even if you are not following any special diets, this cauliflower rice biriyani will be great to enjoy due to the special flavour and variety. Grain-free chicken biriyani can be an option for your special party dishes. Get others wondering on this cauliflower rice biriyani and its peculiar taste….
Step 1 – Preparing Chicken masala
Ingredients
Hyderabadi Biriyani Masala – 1 tbsp (Can use any other biriyani masala also)
Ghee – 2 tbsp (if you are on Keto diet, else need only 1 tsp)
Ginger garlic paste – 1 tsp
Green chilli – 1 no, slit
Salt – as needed
Fresh chicken – 300 gms
Tomato – 1 no, sliced
Coriander leaves – 1 cup (Finely chopped)
Onion – 2 nos, sliced
Mint leaves – 1/2 cup (Finely chopped)
Water – 1/3 cup
Preparation
Add ghee to a heated pan. Add chilli, ginger garlic paste and saute for about 10 secs. Now add onion, a pinch of salt and saute till onion turns golden brown. Then add biriyani masala powder and saute for 10 sec. Add tomato, chopped mint and coriander leaves, saute till mix turns mushy. Add chicken and salt as needed, 1/3 cup of water and mix well. Cover and cook till chicken is done well and gravy thickens(Add more water only if needed)
Homemade biryani masala recipe https://indidiet.com/recipe/biriyani-masala/
Step 2 (Cooking Cauliflower Rice)
Ingredients
Ghee – 2 tbsp (for Keto diet else use only 1 tsp)
Cauliflower – 450 gms
Lemon juice – 1 tbsp
Cardamom – 3 nos
Cloves – 3 nos
Cinnamon stick – 1 inch
Coriander leaves – 1/2 cup (Finely chopped)
Mint leaves – 1/4 cup (Finely chopped)
Preparation
Separate the cauliflower florets and immerse in hot water for some time for proper cleaning and to get rid of any worms in it. Drain and chop/grate the cauliflower into rice size pieces. Prepare a pan and add ghee to it when it is hot. When the ghee is hot add cardamom, cloves, cinnamon stick and saute for a while. Now toss in the chopped cauliflower, salt as needed, few chopped coriander, mint leaves and lemon juice. Saute till cauliflower turns light golden in colour.
Step 3 (Preparing Dum)
Ingredients
Fried onion – For garnishing
Fried Cashews – Few
Chopped mint and coriander leaves for garnishing
Preparation
Spread this on the prepared chicken masala. Top it with chopped leaves, fried onion and cashews. Cover and cook for few minutes over low flame. Tasty grain free Cauliflower Rice-Chicken Biriyani is ready.
Note: Packed Cauliflower rice is available in stores
Detailed step by step cooking video below
Average Member Rating
(5 / 5)
1 people rated this recipe
Related Recipes: