Thakkali Pachadi | Tomato pachadi
2021-06-18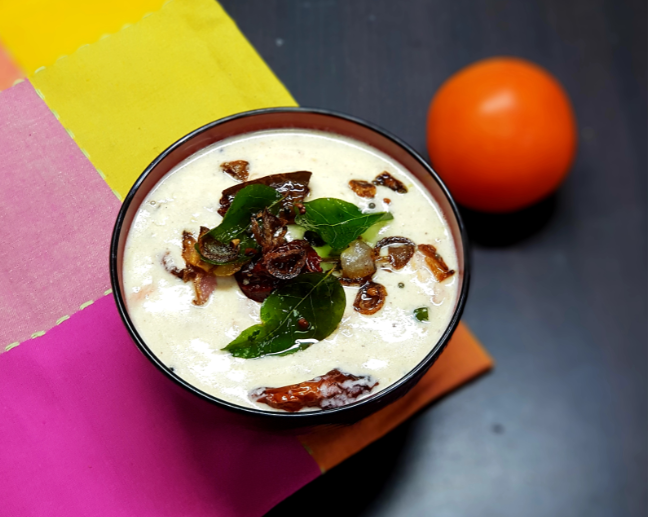 Thakkali Pachadi | Tomato Raita
This is an easy to make Tomato Raita with minimum ingredients. It is an essential dish for any feasts and goes along with other spicy dishes.
 Step 1
Ingredients:
Tomato – 1no (big)/ 2 to 3 nos (small)
Green chilli – 1 or 2 nos
Salt – as needed
Curry leaves – few
Water – 5 tbsp
Into a pan, add tomato which is sliced into thin pieces. Add the rest of the ingredients and mix well. Cover and cook over low to medium flame
Step 2
Ingredients:
Shallots – 3 to 4 nos
Grated coconut – 3 tbsp (heaped)
Cumin seed – a pinch
Water – 2 to 3 tbsp
Mustard seeds – ¼ tsp
Add shallots, grated coconut, cumin seed (optional) and water. Grind them into a fine paste. Add mustard seed to it and coarse grind again, just to crush them.
After around 5 minutes the tomatoes are done. Mash them and add the prepared coconut mix to it. Mix well. Do not boil it, otherwise it will loose its flavour. Turn off the flame.
Step 3
Ingredients:
Cooking oil – 2 tbsp
Mustard seeds – ¼ tsp
Fenugreek seeds – ¼ tsp
Dried red chilli – 1 to 2 nos
Curry leaves – few
Shallots – few (chopped)
Yogurt – 5 tbsp
In a frying pan, pour oil and add mustard seed. Add fenugreek seeds, dried red chilli, a few curry leaves and shallots. Saute till brown.  Add this to the pachadi. Mix well and let it cool down. Add the yogurt after the pachadi has cooled down. Mix well
Thakkali Pachadi is ready !!!
Average Member Rating
(0 / 5)
0 people rated this recipe
Related Recipes: