Zurbian Chicken Biryani (Chicken Zurbian rice)
2020-05-07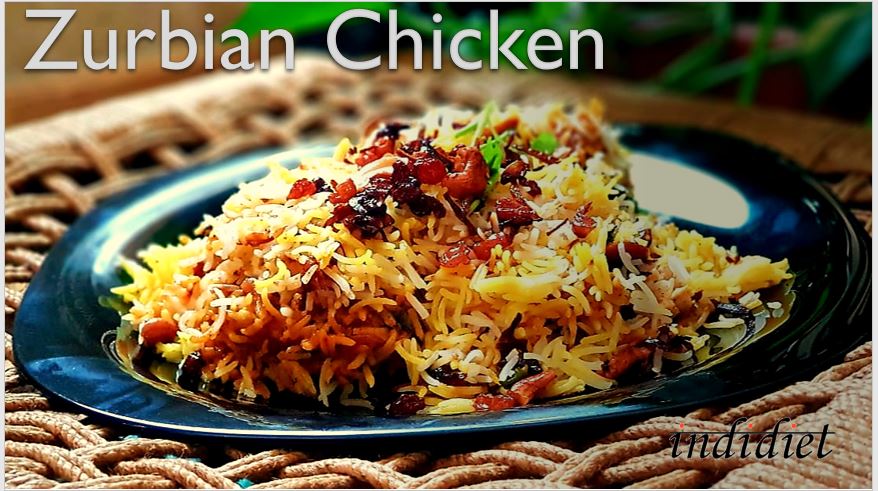 Zurbian Chicken Biryani Restaurant Style – Ramadan Special Recipe
Which is the best biryani in the world ?
Zurbian chicken biryani or Subyaan chicken biryani, has got a special place in the festival menu, whether its Ramdan, Eid or marriages !! This Arabic or Yemeni rice dish differs from the regular biryani due to the ingredients. This has got similarity with tasty Hyderabadi dum biryani, which is one of the famous Indian biryani.
If you are looking for the best biryani preparation, you should try the Zurbian chicken biryani. This easy and tasty biryani preparation, will add color to any event, including iftar.
More special tasty rice recipes from Indidiet :
Restaurant style Matka biryani
Low carb grain free biryani (keto biryani)
Hyderabadi Mutton Keema Biryani
Arabic Chicken Majboos (Chicken Machboos)
Healthy easy spinach (cheera) pulao
Step 1 – Preparing fried onions for Zurbian Chicken Biryani
Ingredients
Onion (big) – 5 nos
Oil – enough to deep fry the onions
Cashew nuts – handful
Raisins – handful
Preparation
Cut the onions into thin slices. Separate them to get fried evenly. Fry the onions in batches to get best results. Stir in between. Fry till dark golden in colour. As they will get more colour after cooking, take them out of the oil a bit earlier. Keep the fried onion in a colander so that it remains crisp. This is a major ingredient of the Zurbian chicken biryani.
Fry the cashew nuts and raisins in the same oil for garnishing and keep aside.
Step 2 – Marinating chicken for Zurbian Chicken Biryani
Ingredients
Green chilli – 2 to 4 nos
Garlic – 1/2 of a big bulb
Ginger – big 1 inch piece
Curd – 4 tbsp (heaped)
Chilli powder – 1 tbsp
Coriander powder – 1 tbsp
Turmeric powder – 1/4 tsp
Pepper powder – 1 tbsp
Garam masala powder – 1 tsp
Salt – as needed
Oil – 2 tbsp (The same oil used for frying the onion)
Chicken – 1 kg
Preparation
Grind half of the fried onion (step 1) along with green chilli, ginger, garlic and curd into a fine paste. Make gashes on the chicken pieces. Add the ground mix along with chilli powder, coriander powder, turmeric powder, pepper powder, garam masala powder, oil and salt. Mix well to coat the chicken with the marinade. Then keep it for 1 hour and will be ready to prepare the zurbian chicken biryani
Step 3 – Preparing rice for Chicken Zurbian rice
Ingredients
Basmati rice – 3 cups (Soak for 15 minutes)
Water – enough to boil 3 cups of rice
Ghee – 1 tbsp
Bay Leaves – 1 to 2 nos
Cinnamon Stick – 1 inch
Star anise – 2 nos
Cardamom – 6 to 8 nos
Cloves – 6 to 8 nos
Dried lemon – 2 nos (1 fresh lime)
Orange blossom water – 1 tsp (orange or mosambi peels if you don't have orange blossom water)
Salt – as needed
Mint and coriander leaves – few
Preparation
In a pot, add all the ingredients except rice. Bring it to boil. Then add the rice into the boiling water. Cover and cook till 3/4th done (around 5 to 8 minutes, cooking time varies as per rice used). Discard the orange peels, lemons etc. Drain immediately and keep the rice aside. Rice is ready for the Zurban chicken biryani.
Step 4 – Preparing Zurbian Chicken Biryani
Ingredients
Oil – 4 to 5 tbsp (Use the same oil used for frying the onion)
Ghee – 1 tbsp + 1 tsp
Tomato (big) – 3 nos
Potato – 1 to 3 nos
Garam masala powder – 1/2 tsp
Mint leaves – handful
Coriander leaves – handful
Parsley – handful (optional)
Milk – ½ cup infused with a pinch saffron (Can use turmeric powder or food colour also)
Orange blossom water – 1 tsp
Rose water – 1 tsp (optional)
lemon – 1 no (round sliced)
Preparation
Prepare a pot big enough to hold the chicken and rice. Add the oil and ghee. Once the oil is hot, add tomatoes, mint, coriander and parsley leaves. Cook till tomatoes turn mushy. Add the marinated chicken into it. Add the garam masala powder and mix well. Add salt and chilli powder, if needed. Mix well and spread the chicken pieces evenly in the pot.
Sprinkle some fried onion, chopped mint and coriander leaves on the chicken. Then add half of the semi cooked rice on the chicken. Add second layer of fried onion, chopped mint and coriander leaves. Pour some milk infused with saffron on the rice. Pour half teaspoon of orange blossom water/ rose water. Then add rest of the rice, spread evenly. Finally garnish with fried onion, fried dry fruits, chopped mint and coriander leaves, sliced lemon. You can also add few orange peels (optional). Then pour ghee, saffron infused milk and orange blossom/rose water. Finally sprinkle a pinch of garam masala powder also.
For the final preparation of the Zurbian Chicken biryani,
Seal the pot using aluminium foil or using dough. Ensure lid is sealed properly to retain the steam. Keep a weight on top of it. Cook over the lowest flame possible for about 20-25 minutes. The pot can be placed on a tawa also, so that it is not on the direct flame.
The biryani will the perfectly cooked after 25 minutes…
Open it. Discard the orange peels. The excellent aromatic Zurbian Biryani is ready!!!
Enjoy one of the best biryani preparations  – Serve hot with salad, pickle and papad.
Note: The chicken can be kept marinated overnight, to prepare the Zurbian biryani faster on the next day !!
Refer step by step cooking video recipe of the best and tasty Zurbian Chicken Biryani below:
Average Member Rating
(0 / 5)
0 people rated this recipe
Related Recipes: