Kerala Style Sambar Recipe
2019-07-31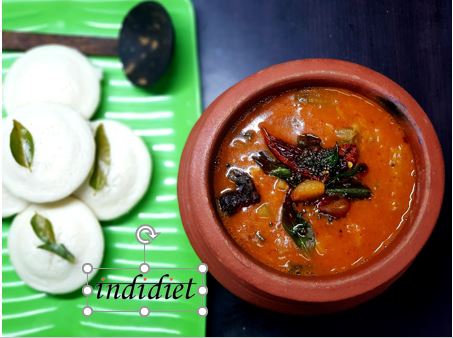 Sambar- South Kerala style (without coconut)
Sadya style sambhar
Sambar is one of the most popular dishes of Southern part of Indian, depending on which state in South India – namely Kerala, Tamil Nadu, Andhra etc- we can find different versions on the sambar. Major ingredients remain the same for all these types, but the way they are prepared differ.
Sambar can be termed as a soup of mixed vegetables with lentils, spices, tamarind etc. Due to the presence of lentils, Sambar is a source of protein and the vegetables make it more nutritious. Sambar's curry nature makes it the ideal side dish for Idly, Dosa, Rice etc. Sambar is the part of the almost all the menus of Southern India – Break fast or lunch or dinner – Sambar will be around and the way it is cooked here, make it easier to consum for days without refrigeration.
Sambar masala is available in supermarkets and if you are concerned about the additives or preservatives in the masala, sambar masala can be easily prepared at home. Here the method to prepare and store the sambar masala is mentioned, which is more economical and healthier as well. This sambar masala preparation gives a traditional taste also.
Sambar is a part of all sadyas or feasts. It is a must for all special occasions and Sambar made for these feasts are prepared for hundreds of people, without affecting the taste. The ratio of lentils, masalas etc. are to be maintained to keep the Sambar taste same throughout.
Refrigerating the sambar may affect its taste. Later in the blog, the method to store sambar without refrigeration is also given, so that we can store it outside and consume for few days.
This particular traditional recipe is from Southern Kerala and the taste is quite different. Moreover, this sambar is prepared without adding any coconut. Homemade masala and the typical way of preparation makes it a special treat for those special occasions.
Step 1 (Preparing Sambar Masala Powder)
Ingredients of Sambar Masala
Chana Dal – 2 tbsp
Coriander seeds – 4 tbsp
Fenugreek seeds – 1/4 tsp
Asafoetida – small piece (8 to 10 gms)
Urud Dal – 1 tbsp
Dried Kashmiri Chilli (whole) – 15 – 20 nos (we will be adding green chilli later while cooking, so spice level can be
adjusted)
Preparation of Sambar Masala
Into a heated pan add the chana dal and chilli. Then dry roast for about a minute over low to medium flame. Then add rest of the ingredients. Break asafoetida into small pieces. Roast till color changes and chilli becomes crispy. After cooling down, grind them into a fine powder.
If you are using asafoetida powder instead of gum, add it while grinding. Sambar powder is ready. This can be stored in an airtight container for later use.
Step 2 (Preparing Sambar)
Ingredients for Kerala sadya special sambar
Toor Dal – 3/4 cup
Tamarind – small lime sized
Salt – to taste
Turmeric powder – 1/2 tsp
Garlic – 1 small clove (1/2 of a big clove), optional
Curry leaves – handful
Water – 8 to 10 cups
Vegetables for sambar
Common vegetables are used for making sambar.
Golden pumpkin – 1 cup
Yellow cucumber – 1 cup
Moringa – 2 nos
Cluster beans – 15 nos
Ladies finger (Okra) – 10 nos
Shallots – 1 cup
Green chilli – 5 nos (adjust according to the taste)
Carrot – 1 no
Yam – 1 cup
Raw banana – 1 no
Snake gourd – 1 cup
Potato – 1 no
Onion – 2 nos
Tomato – 2 nos
Brinjal – 1 no
Curry leaves – handful
Make sure that pumpkin is part of the preparation, as it gives a special taste to the sambar.
Preparation of sambar
Chop the vegetables into small pieces of 1-inch size, except the shallots. Just peel the shallots and
no need to chop them. In a pressure cooker, first cook the dal by adding 1.5 cup of water. Add turmeric powder and salt to taste. Mix well. Cook over medium to low flame for 4 to 5 whistles. Add vegetables (except the okra) and half of the peeled shallots (keep rest for later use). The pressure cooker used here is of 5.5 litre capacity. Add about 2 cups of water and salt as needed. Cook for 1 or 2 whistles over low to medium flame.
Soak the tamarind in 1 cup of water and extract the juice. Prepare a bigger utensil for cooking the sambar.  Add the tamarind extract into it. Add some more water into the remaining tamarind pulp and extract few more times till the last drop. Add 4 tbsp of the prepared sambar powder and mix well. Mash the cooked vegetables slightly and add them to the prepared tamarind mix.  Mix well, add more water if needed to adjust the consistency. sambar will become thicker when it cools down, so add water accordingly. Add curry leaves and bring it to boil. Stir in between.
Step 3 (Tempering the sambar)
Ingredients
Mustard Seeds – 1/2 tsp
Coconut Oil – 2 tbsp
Dried red chilli – 2 to 3 nos
Curry leaves – handful
Chilli powder – ½ tsp
Preparation
Add oil to a heated pan. When the oil is hot, add mustard seeds. Upon popping of mustard seeds, add dried chilli, curry leaves. Add chopped ladies finger and rest of the shallots which we kept aside.  Saute till onion turns soft. Finally add 1/2 tsp of chilli powder (Turn off the flame). Add this to the boiling sambar, mix well. Boil for few more minutes. sambar is ready …!!
Tip: Storing sambar
This sambar can be stored upto 3 days without refrigeration. For that, boil again at night and in the morning. Do not use any wet ladle to serve it. Moreover, avoid serving from this container directly. Take whatever is needed for the day from the boiled sambar and never put back the unused one into the stored sambar. This was you can continue using it for few days without getting spoilt or change in taste…
Refer detailed step by step cooking video below:
Average Member Rating
(0 / 5)
0 people rated this recipe
Related Recipes: