Special Malabar Chicken Biriyani
2018-02-07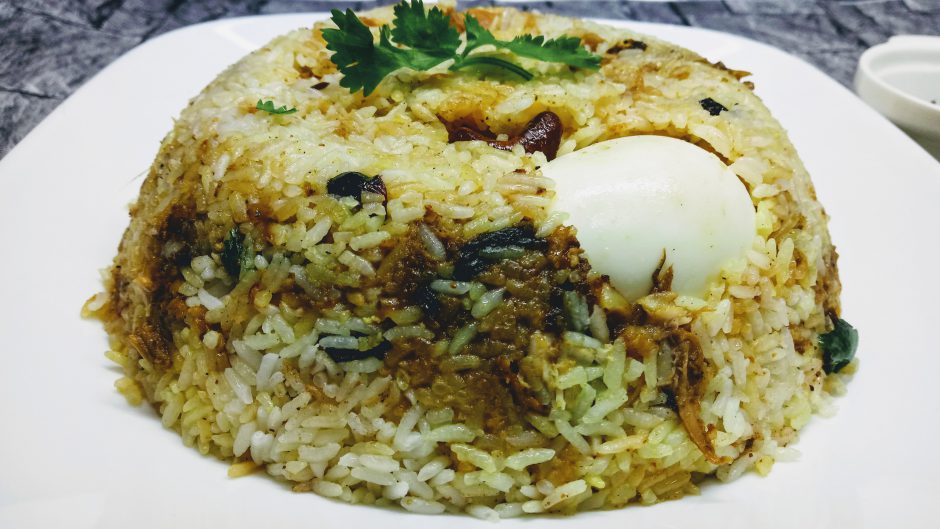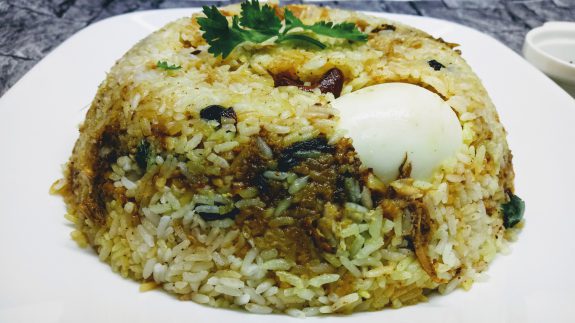 Servings :

6-8

Prep Time :

20m

Cook Time :

60m

Ready In :

10m
Special Malabar Chicken Biriyani | കരീമിക്കയുടെ ബിരിയാണി  
Step 1
Ingredients
Shallots – 15 nos (crushed)
Green chilly – 15 nos (crushed)
Garlic cloves – 8 big/1 ½ tbsp (crushed)
Ginger – 1 ½ inch big/1 ½ tbsp (crushed)
Mint leaves – 1 cup
Coriander leaves – 1 cup(chopped)
Onion – 5 nos (thin sliced)
Tomato – 3 nos (thin sliced)
Lime juice – 1 tbsp
Ghee (clarified butter) – 1 to 2 tbsp
Vegetable ghee/oil – ½ cup
Yogurt – 2 tbsp
Fresh chicken – 1.75 kg (medium cuts)
Biriyani masala – 2 tbsp
Black pepper powder – 1 tbsp
Salt – as needed
Cashew nut – ½ cup
Raisins – ½ cup
Couscous (poppy seeds) – 1 tsp ( grind it to paste by adding 2 to 3 tbsp of coconut milk)
 Preparation
Into a heated pan, add oil and once the oil is hot, add cashew nuts and fry till they are golden. Similarly fry raisins also. After that to the same pan, add half of the sliced onion and fry till dark brown. Transfer it into a colander or strainer to keep it crispy else it will become soggy by absorbing oil. Now add rest of the onion (keep 2 tbsp of onion aside to use while making rice), crushed shallots and saute for few minutes by adding little salt. Now add ginger and garlic and saute till light brown. Then add crushed green chilli and saute for a while. Add turmeric, pepper and biriyani masala powders and saute till fragrant. Add tomatoes and saute till tomatoes are cooked and mushy. When oil starts separating on the sides, add the chicken pieces, salt as needed, mint and coriander leaves. Mix well and add lime juice, yogurt, couscous paste and fried onion (keep some for garnishing. Crush the fried onions with your hands while adding. Mix well, cover and cook over low flame. Add ghee when it starts boiling. Cook it into a thick gravy.
Step 2
Ingredients
Ghee (clarified butter) – 2 tbsp
Oil – 2 tbsp
Cloves – 6 nos
Cardamom – 5 nos
Cinnamon stick – 1 inch piece
Bay leaves – 2 nos
Shah jeera (black cumin) – ½ tsp
Jeerakasala rice (Khaima rice) – 4 cups (soak for 20 minutes and drained)
Water – 6 cups (use same cup for measuring rice and water)
Salt – as needed
Onion – 2 tbsp (thin sliced)
Lime juice – 1½ tbsp
Preparation
Into a heated pot, add ghee. Once the ghee is hot, add all of the whole-spices mentioned and saute for a minute. Then add onion and saute till golden brown. Now add rice, oil and saute till it becomes hard to stir. Add boiling water, lime juice and salt as needed. Mix well, cover and cook over low flame. When it is half done, mix gently once and add little gravy from the chicken masala (step 1) and continue cooking till no water is left in the rice.
Step 3
Ingredients
Coconut milk – ¾ cup (add ½ tsp of turmeric powder and 1 tsp of rose water and mix well)
Mint leaves – few (chopped)
Coriander leaves – few (chopped)
Biriyani masala powder – 1 tsp
Ghee – 1 tbsp
Preparation
Prepare a big pot enough to cook the rice and masala. Grease the pot with ghee. First add a good layer of chicken masala (step 1) and then with a layer of cooked rice (step 2). Spread some fried cashew nuts and raisins. Pour some coconut milk mix. Similarly continue the layering. Finally add fried onions, cashew nuts, raisins, mint leaves and coriander leaves. Pour coconut milk mix, sprinkle biriyani masala powder and pour ghee all over. Cover it with aluminium foil or seal the lid with maida ( all-purpose flour) dough. Heat a tawa (iron tawa preferred) and place the biriyani pot on that. Cook over low flame for 15 to 20 minutes. Turn off the flame and leave it for at least 15 minutes before opening. Enjoy with pickle,  pappad and raita.
Refer following video for details:
Average Member Rating
(4.7 / 5)
3 people rated this recipe
Related Recipes: