Palappam (Kerala Appam) Recipe without adding yeast or baking soda
2019-08-06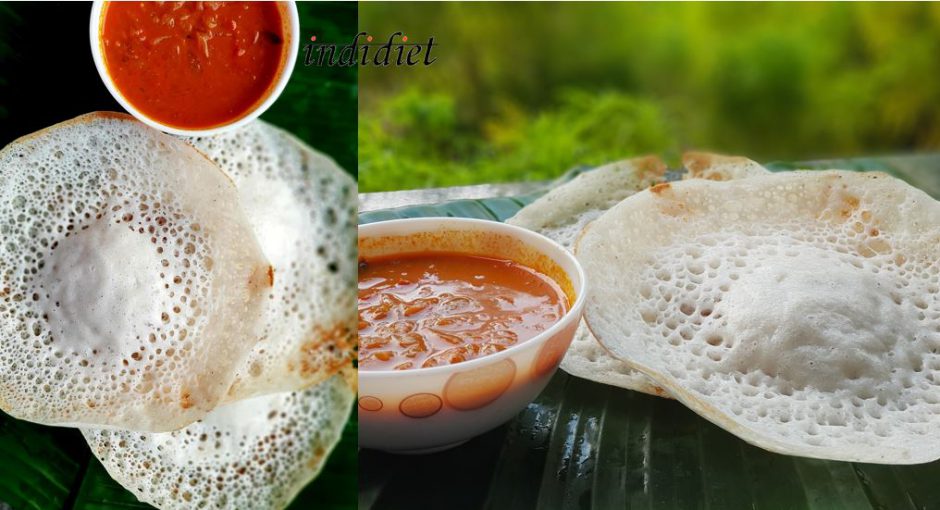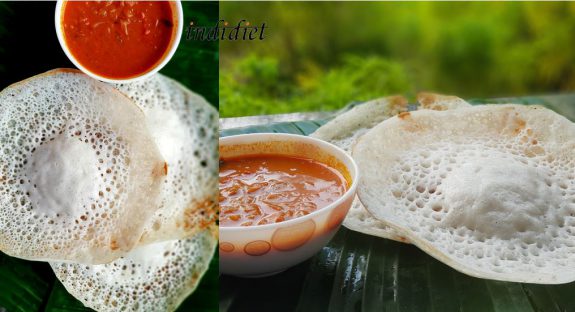 Palappam (Kerala Appam) Recipe without adding yeast or baking soda
Appam (a type of pancake) is one of the main breakfast dishes of Kerala, which is taken along with savory curries made of Egg or vegetable. Appam and Egg Curry, Appam and kadala curry, Appam and Vegetable stew are typical combos in all restaurants. Traditionally, Appam (Palappam or Velayappam) was prepared without adding any yeast or baking soda. The appam prepared here can be taken as it is or even with sugar sprinkled over. Some tips on preparing the tasty and presentable Appam are also explained here.
Step 1 (Preparing batter for Appam)
Ingredients for Appam batter
White raw rice – 350 gms or 1 1/3 cups or 1 glass heaped (Soaked for 4 to 6 hours)
Cooked rice – 1 cup (or 1 glass) (same glass used to measure the raw rice)
Fresh scraped coconut – 3/4 cup (3/4 th of the glass used to measure the raw rice)
Sugar – 2 tbsp
Water – as needed to make the batter
Preparation
Grind the soaked raw rice into a smooth batter by adding water just enough to cover the rice in the jar. Transfer this batter into another vessel. Now grind cooked rice, coconut and 2 tbsp of sugar into a smooth batter.  Here also, add water just enough to cover the ingredients in the jar. This is very important to have the right consistency for the batter. Later some water can be added as well if needed. Consistency of the batter should not be very thick or very thin. Use ice cold water for grinding so that the appam will come out well. Transfer all the batter into a vessel and mix well. It is very important to mix and beat the batter thoroughly. Use your hands or ladle to do it and this will make the batter airy to get better results. Leave the batter for fermenting overnight or for at least 6 to 8 hours. Add salt as needed just before making the appam and mix gently. We should avoid stirring vigorously, as we will lose the air bubbles, which are needed for getting the perfect Appam.
Step 2 (Preparing Appam)
Ingredients
Preparation of Appam
The batter is fermented well without adding any yeast or baking soda. Cast iron appachatti to be used to get the best results. If you are using non-stick type appachatti, ensure that it is used for some other cooking first, so that the surface is not too smooth. Add just enough batter to the appachatti and swirl to get an even thin layer on the outer edges while the inner part will fluffy.
After fermenting, refrigerate the batter for few hours for the best-looking Appam!!!
Refer detailed step by step cooking video:
Average Member Rating
(0 / 5)
0 people rated this recipe
Related Recipes: