Chatti Pathiri
2018-06-06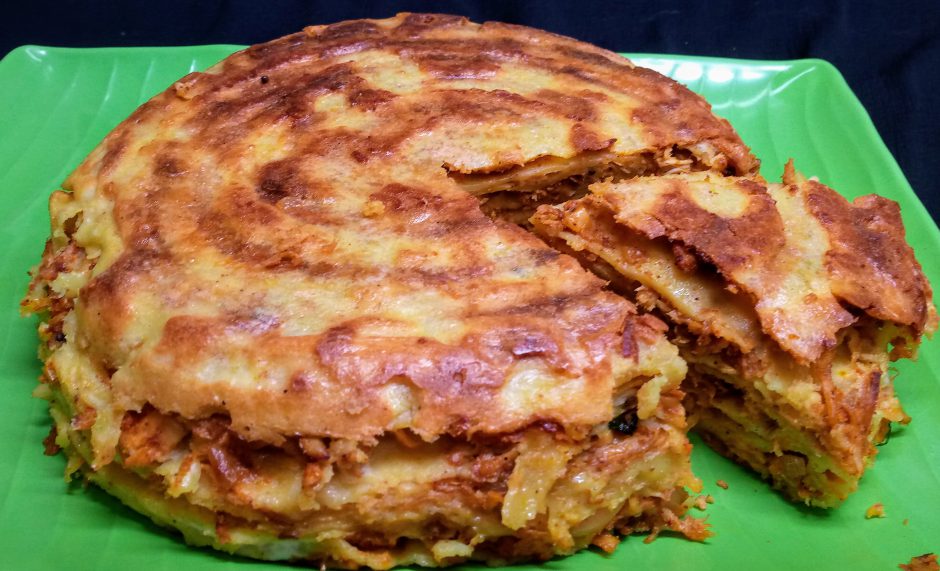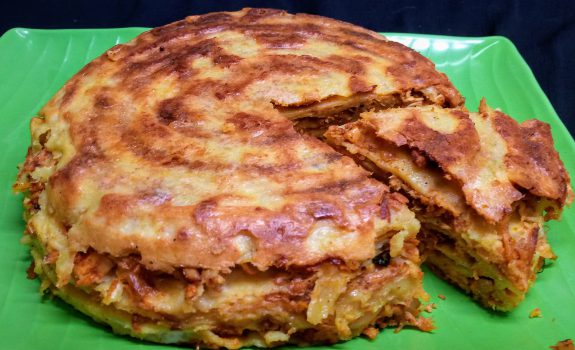 Prep Time :

20m

Cook Time :

30m
Chatti pathiri aslo known as atti pathiri, chatti pathal, athishaya pathiri is a very famous dish in Malabar region of Kerala. It is a special dish that can be made with meat or as a sweet. Here we are preparing it with chicken.
Step 1 – Preparing chicken
Ingredients
Chicken – 500 gms (boneless)
Chilli powder – 1 tsp
Turmeric powder – ¼ tsp
Black pepper powder – ¼ tsp
Salt – 1 tsp
Preparation
In a pan, cook the chicken by adding all the other ingredients mentioned above. Add water only if required, as chicken will release water while cooking. After chicken is cooked well, leave it for cooling down. Then shred the chicken into small pieces.
Step 2 – Preparing chicken filling
Ingredients
Onion – 2 nos (finely chopped)
Green chilli – 3 nos (finely chopped)
Garlic paste – 1 tsp
Ginger paste – 1 tbsp
Chilli powder – 2 to 3 tsp
Turmeric powder – ¼ tsp
Black pepper powder – 1 tsp
Coriander powder – 1 tsp
Garam masala – 1 tsp
Fennel powder – 1tsp
Salt – as needed
Mustard seeds – 1 tsp
Curry leaves – few
Coriander leaves – 1 cup (finely choppe)
Cashew nuts – 3 tbsp (break into small pieces)
Raisins – 1 tbsp
Oil – 1 to 2 tbsp
Preparation
In a heated pan add oil. When the oil is hot, add mustard seeds. Upon popping of mustard seeds, add ginger, garlic paste. Saute for 20 seconds. Then add onion, a pinch of salt and saute till it turns golden in colour. Add green chilli, curry leaves, red chilli powder, turmeric powder, black pepper powder, coriander powder, garam masala, fennel powder and saute for 30 seconds or till fragrant. Now add the shredded chicken and mix well. Add salt if needed, as salt is added while cooking the chicken. Cover and cook for 1 minute. Add cashew nuts, coriander leaves, raisins and mix well. Filling is ready.
Step 1 – For crepes
Ingredients
All-purpose flour (maida) – 2 cups
Egg – 1 no
Salt – as needed
Black pepper powder – ¼ tsp
Water – 2 ½ to 3 cups
Turmeric powder – ¼ tsp
Preparation
In a mixing bowl, mix all the above ingredients to a smooth batter. The consistency should be like of dosa /crepes. Heat a pan. Grease lightly if you are not using a nonstick pan. Make thin crepes by spreading enough amount or batter. Make the crepes according to the size of the vessel you are going to use in the final stage for layring. Similarly, make all the crepes and keep aside. Around 12 crepes can be made from this batter.
Note : This is also made with rolled flat bread instead of crepes. For that we have to make soft dough instead of batter. Make thin flat breads like roti/chappathi instead of crepes.
Step 3 – Layering
Ingredients
Egg – 3 nos
Milk – ½ cup
Salt – ¼ tsp
Black pepper powder – ¼ tsp
Ghee – 1 tbsp
Preparation
Beat the egg by adding salt and black pepper powder. Grease the pan with ghee. First dip a crepe in the milk and then in egg mix ( same step if you are using flat bread instead of crepes). Spread this in the greased pan.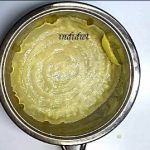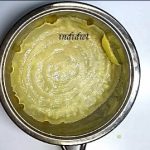 Add a layer of chicken filling on it.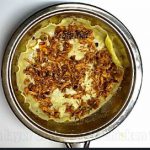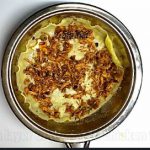 Repeat layering. Final crepe should be on the top.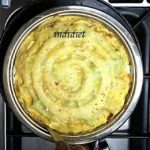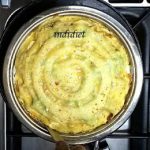 Pour remaining egg mix over it. Keep this pan on the top of another one and cook over low flame. Cover it tightly. Cook for about 20 minutes. After that, clear the sides with a sharp knife. Flip it and cook for 5 more minutes. Pour 1 tsp of ghee also. Pathiri is ready!! Cut as in desired size and have it…
Refer detailed step by step cooking video below.
Average Member Rating
(1 / 5)
1 people rated this recipe
Related Recipes: