Restaurant style Hakka Noodles with Maggi Noodles
2020-03-27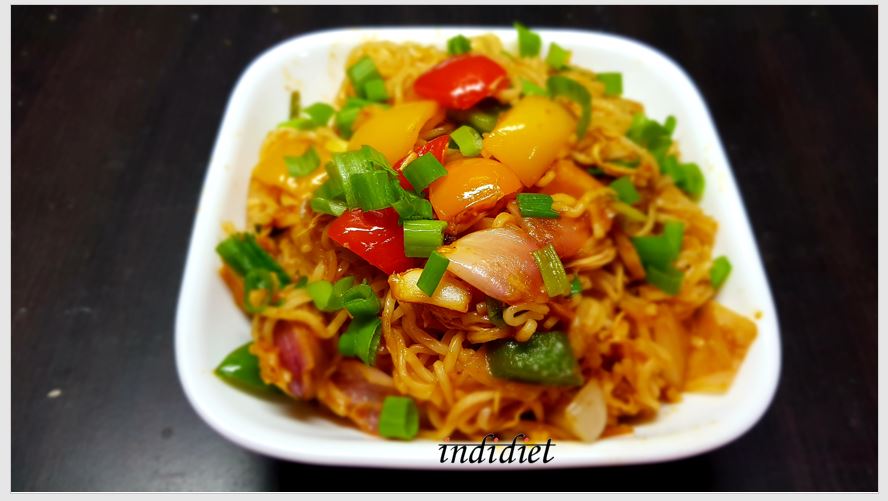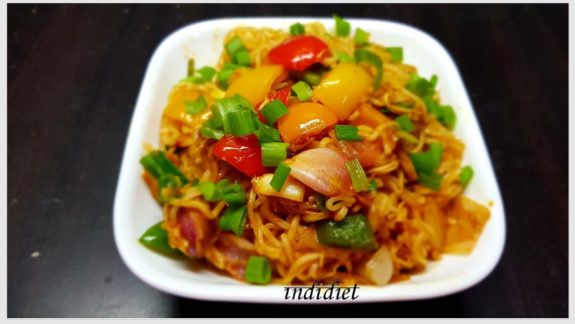 Restaurant style Hakka Noodles with Maggi® Instant Noodles
Noodles is the most favored instant preparation and there are lots of varieties of it. Easy preparation and different tastes make them on the top of the instant recipes. Instant noodle recipes can be helpful to prepare as snack or as a meal. This is one of the foods that can be preserved as well.
Hakka noodles is  special preparation of stir frying boiled or cooked noodles and mixing with vegetables, chicken etc. The seasoning for Hakka noodles is different from the other preparations.
Any instant noodles can be used for this recipe.
Ingredients for Hakka noodles with Maggi
Maggi chicken flavour – 2 packets (or any similar instant noodles)
Butter/oil – 1 to 2 tbsp
Ginger – 1 tsp (finely chopped)
Garlic – 1 tsp (finely chopped)
Celery – 1 tsp (optional) (finely chopped)
Onion – 1 no medium size (cut into 1 inch square pieces)
Capsicum – 1/2 cup (cut into 1 inch square pieces)
Spring onion- 1/2 cup (white and green part chopped separately)
Salt – as needed
Water – enough to cook noodles
Soy sauce – 1 tbsp
Tomato sauce – 1 1/2 tbsp
Hot sauce – 1 tsp
Chicken cooked – 1/2 cup (small pieces)
Preparation of Hakka noodles
Boil water in a vessel. Then add the noodles into the boiling water. Cook for 2 to 3 minutes or till 3/4 th is done. Then Strain immediately, rinse in normal water and keep aside.
Prepare a wok or a pan. Add butter or oil to the heated pan. Once the butter is melted, add chopped ginger and garlic. Saute for 30 seconds over high flame. Now add chopped celery and saute for a while. Then add chopped onion, capsicum and white bulb part of the spring onion. You can also add any chopped vegetables of your choice if needed. Saute for 30 seconds. Now add, soy sauce, tomato sauce, hot sauce and the maggi seasoning powder. After that add some pieces of cooked chicken as well. Mix well. Add the cooked noodles and mix well. Finally add chopped green part of the spring onion and serve hot !!!
Detailed step by step cooking video on how to make Hakka noodles below:
Similar recipes :
Average Member Rating
(5 / 5)
2 people rated this recipe
Related Recipes: