Dum ka Murgh (Dum ka Chicken)
2018-06-06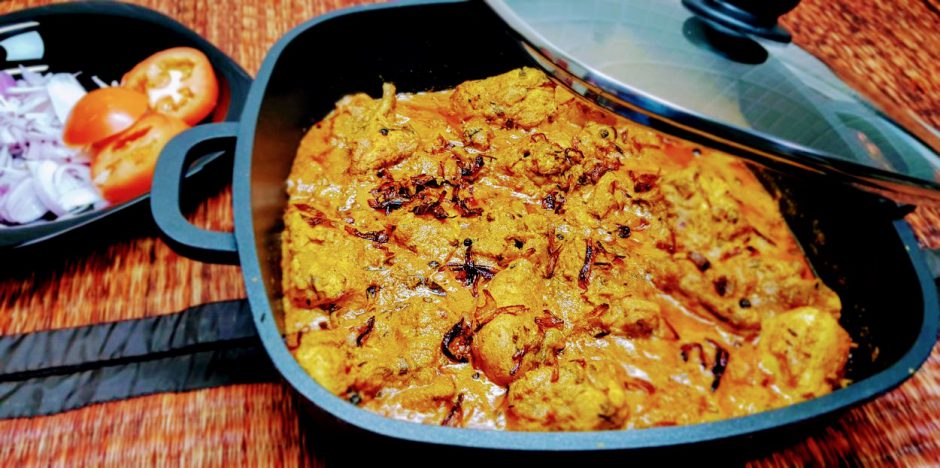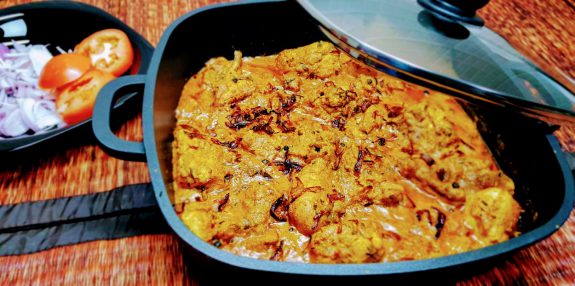 Dum ka Murgh (Dum ka chicken) is slow cooking recipe from Hyderabad. Special ingredients such as Chirongi seeds and coconut give a special taste to the dish. This dish is cooked in dum pukth method, where the chicken is tightly sealed in a pan and cooked over low fire.
Step 1
Ingredients
Cashew nuts – 1 tbsp
Chironji (charoli) seeds – 1 tbsp
Fresh coconut – 1/3 cup (chopped)
Poppy seeds – 1 tbsp
Preparation
Firstly, in a heated pan, dry roast all the ingredients mentioned above for about 5 minutes. Grind to a smooth paste by adding 1/2 cup of water.
Step 2
Ingredients
Oil – 2 to 3 tbsp
Onion (big) – 2 nos (thin slices)
Salt – ½ tsp
Preparation
Into a heated pan, add oil. Add onion, salt and saute till brown. Transfer to a colander for cooling down.
Step 3
Ingredients
Chicken – 1 kg
Turmeric powder – 1/2 tsp
Red chilli powder – 1 tbsp
Coriander powder – 1 tbsp
Cumin powder – 1/2 tsp
Garam masala powder – 1/2 tsp
Yogurt – 1 cup
Lime juice – 1 tbsp
Ginger paste – 1 tsp
Garlic paste – 1 tsp
Green chilli – 5 to 8 nos (crushed),
Fresh mint leaves – 1/2 cup (chopped)
Coriander leaves – 1/2 cup (chopped)
Saffron – few strands soaked in 1 tbsp of milk
Ghee – 1 tbsp
Preparation
Marinate chicken by adding all the ingredients mentioned above. Along with that add prepared cashew-chirongi paste (step 1) and fried onion (step 2) also. Mix well, marinate for 4 hours. Keep it in a refrigerator.
Step 4
Ingredients
Oil – 1 tbsp
Shahi jeera – 1/2 tsp
Cumin seeds – 1/4 tsp
Black pepper corns – 1 tsp
Star anise – 1 no
Cloves – 1/2 tsp
Bay leaf – 2 nos
Black cardamom – 1 no
Green cardamom – 5 nos
Mace – 1 no
Cinnamon stick – 1″ piece
Water – ½ cup
Preparation
In a heated pan add oil. When the oil is hot, add cumin seeds, shahi jeera and wait till pops. Then add all the whole spices mentioned above and saute for 30 seconds. Add marinated chicken, 1/2 cup water. Mix well, spread the marinated chicken evenly in the pan. Bring it to boil. Place this pan on another tawa to avoid direct flame. Seal the lid tightly with wheat dough. Close the small vents on the lid also. Then cook over very low flame for 25 to 30 minutes. Finally turn off the flame, open after 10 minutes. Dum Ka Murgh is ready to serve!!!!
Refer detailed step by step cooking video below.
Average Member Rating
(0 / 5)
0 people rated this recipe
Related Recipes: