Marunnu Kanji Recipe (Karkidaka Kanji Recipe) – Medicinal Rice Porridge
2018-09-11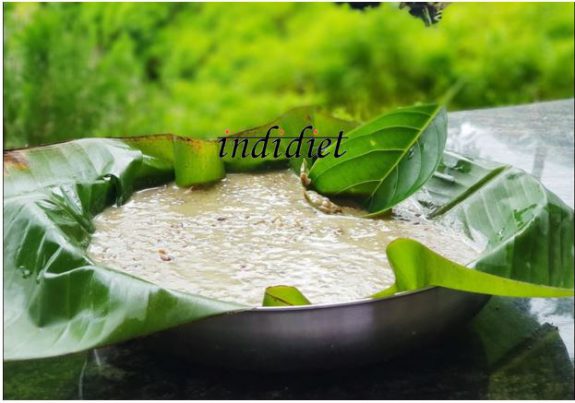 Marunnu Kanji Recipe – Karkidaka Kanji Recipe
To prepare and boost our immune system during rainy season, the traditional Marunnu Kanji/ Karkidaka Kanji is a good option. During monsoon or the rainy season, we need to be watchful on what we eat. Ayurveda is very specific about the treatments and foods to consume during this period. In Kerala, the southern state of India, Navara rice porridge has been prepared using Ayurvedic mixes since ages to keep the native's health intact. The recipe mentioned below is to help to prepare the same without losing any nutritional values, but maintaining the taste, to make it appealing for all. Marunnu is the term for Medicine in Malayalam, Kanji stands for porridge and so as the name states, this is a beneficial porridge for a healthy monsoon – Enjoy the dish….
Recipe Step 1 (Preparing podi marunnu for Marunnu kanji)
Ingredients
Medicinal powder (Podi marunnu) – 3 tbsp
Water – 2 cups
Preparation
Mix the powder in the water and boil it. Keep boiling for 10 minutes over very low flame. After cooling down, sieve and keep the extract. The medicinal powder is available in super market as a kit (Karkidaka kanji mix) or else you can buy it from ayurvedic shops.
Recipe Step 2 (Preparing herbal extract for Marunnu kanji)
Ingredients
Use fresh medicinal plants available commonly like Thazhuthama, Mukutti, Cherula etc. One handful altogether will be enough.
Preparation
Wash thoroughly, grind by adding little water. Sieve and take the extract. Keep it aside.
Recipe Step 3 (Cooking rice and lentils for Marunnu kanji)
Ingredients
Navara rice – 1 cup
Green gram – 5 tbsp
Fenugreek seeds – 2 tbsp
Broken wheat – 1/2 cup
Garden cress seeds – 2 tbsp
Water – 4 cups
Preparation
In a pressure cooker, add all the ingredients. Mix well, cook for 3 whistles over very low flame. Turn off the flame. After the steam is completely released, open the pressure cooker. The rice and lentils will be perfectly cooked by now.
Recipe Step 4 (Preparing Marunnu kanji)
Ingredients
Coconut milk (first extract) – 3 to 4 cups
Coconut milk (second extract) – 4 cups
Salt – as needed
Preparation
Prepare a heavy bottom vessel for cooking the Marunnu Kanji. Add the prepared podi marunnu extract (step 1), cooked rice mix (step 3) and second extract of coconut milk. Mix well and bring it to boil. Then add the prepared herbal extract (step 2) and salt as needed. Mix well and continue cooking till everything is combined well. Boil it for about 10 minutes. Then add more coconut milk if needed. When the porridge is cooked well in the second extract of coconut milk, add the first extract of coconut milk, mix well and cook for few minutes. Do not boil after adding the first extract of coconut milk. Turn of the flame.
Recipe Step 5 (Tempering Marunnu kanji)
Ingredients:
Fresh scraped coconut – 1 cup
Shallots – 10 nos (chopped)
Cumin seeds – 1/2 tsp
Ghee – 1 tbsp
Preparation
In a heated pan, add ghee. When the ghee is hot. add the cumin seeds. When the seeds start to pop, add chopped shallots and saute till the colour changes to light brown. Then add this mix to the prepared porridge and mix well. Finally add the fresh scraped coconut and mix well. Healthy and tasty Marunnu Kanji or medicinal porridge is ready to serve.
Refer detailed step by step cooking recipe video from Indidiet below:
Similar recipes:
Kodangal (Muthil) appam (Monsoon and Post Delivery care Diet) –  https://youtu.be/1EQfrz98qw4
Average Member Rating
(3.5 / 5)
2 people rated this recipe
Related Recipes: